Time to get smart. We know YOU're smart, but is your thermostat? A smart thermostat can be controlled remotely using a smartphone, tablet, or other internet-connected device and take your energy efficiency to the next level.
Save big money
Control remotely
Easy to program
Device integration
Detailed usage data
Get Smart With Capital Today! Call us at 414-316-3467
What Is A Smart Thermostat?
Smart thermostats use Wi-Fi connectivity to allow you to control your home's temperature remotely. You can use an app on your smartphone to adjust the temperature, set schedules, and receive notifications. Some models can also integrate with other smart home devices, such as Amazon Alexa or Google Assistant, allowing you to control your thermostat using voice commands.
In addition to remote control, smart thermostats can also learn your preferences and adjust the temperature automatically. They use sensors and algorithms to determine when you are home and when you are away, and adjust the temperature accordingly. This can help save energy and money on your utility bills, as the thermostat can automatically lower the temperature when you are away and raise it when you return.
They come in a variety of models and price ranges, and some are specifically designed for use with certain types of HVAC systems. They are a great investment for homeowners who want to increase energy efficiency, save money, and enjoy greater convenience and control over their home's temperature.
Advantages of Smart Thermostats
Smart Thermostat Installation
Capital stands ready to hook you up with a smart thermostat. We'll take the time to install it right, and configure and test it so you get the most out of your futuristic upgrade.
Smart Thermostat Replacement
When it comes time to replace your thermostat, your friends at Capital will come and investigate your situation and give you all your options and an upfront price.
Smart Thermostat Repair
Merle is in charge of our Smart Thermostat team, so if you need a repair, get ready to have a furiously hard working ball of sheer squirrel energy roll into your home and fix your problem fast.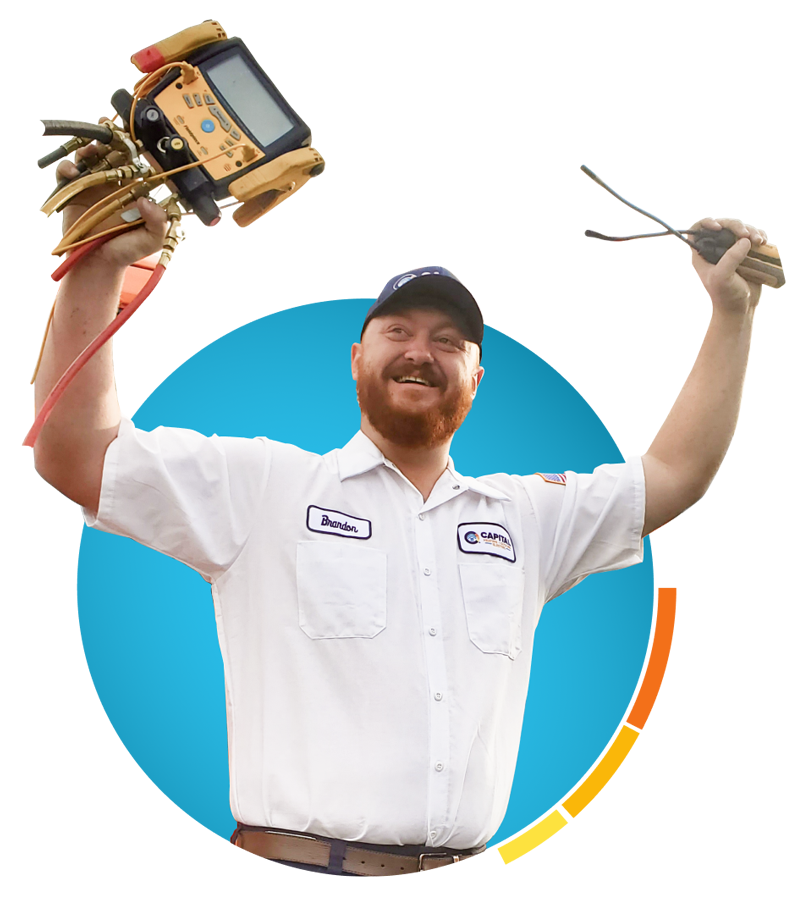 Why Choose Capital?
Capital Guarantees
Capital Heating, Cooling & Electric stands behind all our work. You are covered on the installation of your heating or cooling system by the following guarantees and more:

Your 100% Unconditional Satisfaction Or Your Money-Back Guarantee
5-Year Comfort Guarantee
Exclusive Lemon-Free Guarantee
Lifetime Installation Components & Craftsmanship Guarantee
Lifetime Ductwork Warranty
Flexible Financing
Capital cares to make your life better today, without YOU having to worry about tomorrow. So we also offer a number of financing options to help you with your HVAC system repair or replacement costs.
Capital Communication
We will let you know what to expect on the day of your installation, and introduce you to your Furnace installer before they arrive at your doorstep. At least 24 hours prior to your installation, you'll receive a "Meet Your Installer" email with:
Technicians' photo
# years experience
Photo of the install truck
In Transit text
In addition to the friendly introduction, you can rest assured that the technicians installing your heating system are highly vetted, trained, and nationally accredited. In fact, many of our technicians are relocated from around the country to ensure YOU only get the best.