Balance Your Home Humidity
We have the type of climate that creates dry winters and moist summers. Unfortunately, your home's humidity balance also determines how healthy the air is in your house. This is why we recommend whole house humidifiers and whole house dehumidifiers to control the humidity in your home.
Without the right equipment, balancing humidity levels throughout the whole home is nearly impossible. Too much or too little moisture can create a litany of problems for your health and comfort and can cost you money too.
Call us at 414-316-3467
Whole-Home Humidifiers
The ideal relative humidity level indoors should hover around 45%. Anything under 30% is too dry and should be increased to prevent health problems or damage to your home's furniture, paint, wood, insulation and siding.
Capital has a humidifier that works with your heating and cooling system to monitor and add moisture to the air when necessary, which benefits you most during the winter months when the air is naturally dryer.
Signs of Dry Indoor Air
When indoor air is too dry, asthma and allergy symptoms can worsen. Cold and flu viruses may spread more rapidly, and you may be more prone to sinus infections. Dry air pulls moisture from your skin, which makes you feel cold, dries out your air passageways, and causes
Allergies/Asthma
Colds and Flu
Chapped lips
Dry, itchy skin
Climbing Energy Bills
Because dry indoor air feels cooler, many homeowners make the mistake of turning up the heat, when it's the humidity level that really needs to be increased. In fact, the Environmental Protection Agency estimates a 4% savings on heating bills for every degree lower you set your thermostat.
Damage to Home and Furnishings
Dry air is damaging to homes. Wood and other building materials, as well as furniture are robbed of moisture when the air is too dry. Cracks and damage can occur to flooring, trim, and even framing around windows and doors.
How To Control Your Home's Humidity
Capital can install a whole home humidifier, which would be installed in the ductwork near the HVAC. The device is connected to your home's water supply, and when the system indicates the humidity levels are too low it creates a mist when it merges with the air from your system. When humidity levels are adequate, the humidifier stops adding moisture to the air entering your house.
Why Indoor Humidity Gets So High
There are a number of things that might contribute to your home's indoor humidity being too high, including:
Whole-Home Dehumidifiers
Here in Wisconsin, most basements are connected to the rest of the home through ductwork. So when there are moisture problems down low, it affects the rest of the home. Things like clamminess, wood rot, and asthma/allergy flare ups become topics of concern. The problem is that without the right equipment, removing excess humidity can be inconvenient, ineffective and costly.
The ideal relative humidity level indoors should hover around 45%; anything over 50% is too moist and should be lowered to avoid the problems associated with disproportionately humid air.
Capital has a dehumidifier that automatically monitors and removes moistures from the air when necessary. It works with or without ducted HVAC systems (and despite its basement location) and removes up to 12 gallons of water per day which benefits you most during warmer months when the air is naturally more humid.
Signs of Excess Indoor Moisture
When indoor air is too moist, it accelerates the growth and spread of mold, mildew, fungi, bacteria, and viruses that cause illnesses and asthma/allergy flare ups. And because humid air feels warmer, it can make the air inside your home feel hot and muggy and cause
Allergies/Asthma
Colds and Flu
Viruses and bacteria
Musty odors
Climbing Energy Bills
Just as dry air feels cooler, humid air feels warmer and can leave you feeling hot and uncomfortable. In response, many homeowners make the mistake of turning up their air conditioning (and the bill) when it's the humidity level that really needs to be reduced. If your cooling bills are climbing, it could be a sign that AC is being overworked.
Damage to Home and Furnishings
When the humidity level indoor rises above 50%, it can damage your home's furnishings, structure, and even mechanical systems. As condensation forms on toilet tanks, water pipes, HVAC systems, and other mechanical objects, it can cause rust or fungus, and lead to failed parts and mechanisms. Failed parts can prevent proper operation and may mean costly repairs.
How to Know if Your House Has Too Much Moisture
Here are typical signs:
A build-up of condensation on a window or fog on the glass
Moldy areas on the ceiling or in the corners of a room
A musty smell in the air
Capital can determine the moisture level in your home and what solution would work best to correct it.
How To Get Rid of Moisture In Your Home
Make sure you maintain your air conditioner with an AC Beyondification so it runs efficiently and continues to remove moisture from the air.
Keep your home well ventilated so mold or mildew don't settle and the moving air helps control moisture levels.
Air dry clothes outside because leaving clothing or fabric indoors to dry will increase moisture levels.
Keep shower curtains stretched after taking a shower which allows it to dry more quickly.
If you are still having issues with moisture in your home, you may want to consider using a dehumidifier. Call Capital today with any questions you may have on different dehumidifying options!
Humidifier & Dehumidifier Installation
Capital Heating, Cooling & Electric has the best installation team in the State. We believe in taking the time to do the job RIGHT and giving you red carpet service and superior workmanship.
Humidifier & Dehumidifier Repair
If you run into issues with your home's humidifier, our Capital technicians are standing to solve the problem 24/7. We believe you should always have maximum comfort and safety in your home.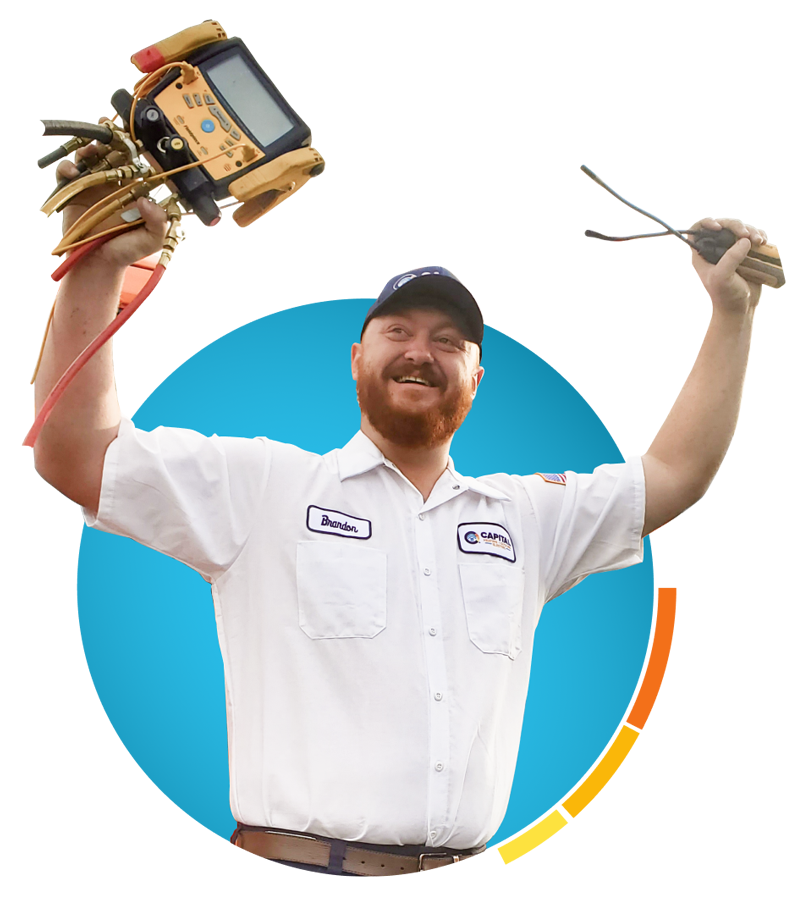 Why Choose Capital?
Capital Guarantees
Capital Heating, Cooling & Electric stands behind all our work. You are covered on the installation of your heating or cooling system by the following guarantees and more:

Your 100% Unconditional Satisfaction Or Your Money-Back Guarantee
5-Year Comfort Guarantee
Exclusive Lemon-Free Guarantee
Lifetime Installation Components & Craftsmanship Guarantee
Lifetime Ductwork Warranty
Flexible Financing
Capital cares to make your life better today, without YOU having to worry about tomorrow. So we also offer a number of financing options to help you with your HVAC system repair or replacement costs.
Capital Communication
We will let you know what to expect on the day of your installation, and introduce you to your Furnace installer before they arrive at your doorstep. At least 24 hours prior to your installation, you'll receive a "Meet Your Installer" email with:
Technicians' photo
# years experience
Photo of the install truck
In Transit text
In addition to the friendly introduction, you can rest assured that the technicians installing your heating system are highly vetted, trained, and nationally accredited. In fact, many of our technicians are relocated from around the country to ensure YOU only get the best.