Mini-Split (Ductless) Installation
Any Mini-split Installation, 7 days a week
Same Day Appointments
1 Year Install Guarantee
Flexible Financing
NATE-Certified mini-split installation technicians
For emergency mini-split repair, call us at 414-316-3467.
Do Mini-Splits Heat AND Cool?
Yes, mini-split systems are extremely energy-efficient in that they both heat and cool your home. Mini-splits are a type of ductless HVAC system that consists of an indoor unit and an outdoor unit. The indoor unit is responsible for cooling or heating the room, while the outdoor unit houses the compressor and other components.
Mini-split systems use a refrigerant to transfer heat energy between the indoor and outdoor units. In the summer, the indoor unit absorbs heat from the room and releases it outside, cooling the room. In the winter, the process is reversed, and the indoor unit extracts heat from the outdoor air and releases it inside, heating the room.
One of the benefits of mini-split systems is their ability to provide zoned heating and cooling. This means that you can adjust the temperature in individual rooms or zones separately, which can help save energy and improve comfort.
For example, you can set the temperature higher in the living room during the day and lower in the bedrooms at night. This level of control is not typically possible with traditional HVAC systems.
Other Advantages of Mini-Split (Ductless) Systems
Mini-split systems offer several other advantages over traditional central HVAC systems or window air conditioning units, such as:
In short…
mini-split systems are a great choice for homeowners looking for a flexible and energy-efficient system that provides zoned cooling and heating and cleaner, healthier air in your home.
Mini-Split Installation
In the unpredictable climate of Wisconsin, we understand that your home heating and air system needs to be perfectly designed and installed for your particular home and specific needs.
Your Capital Mini-Split installer will:
Examine your current system
Conduct a load calculation that determines the perfect-sized mini-split for YOUR home
Determine all your options
Present your choices
Give you a straightforward price
Capital will spend extra time fine-tuning and customizing your mini-split system to maximum efficiency, and thoroughly test your new system to make sure it has been installed perfectly.
Mini-Split Replacement
When the day comes to replace your mini-split system, our Capital technicians will be there to discuss your options, help you choose what's best for your home and budget, and meticulously install your new system.
Mini-Split Repair
If you run into a repair problem, our Capital techs can fix it up fast. We even have a $500 not a day without comfort guarantee because we're confident we'll have you back up and running in no time.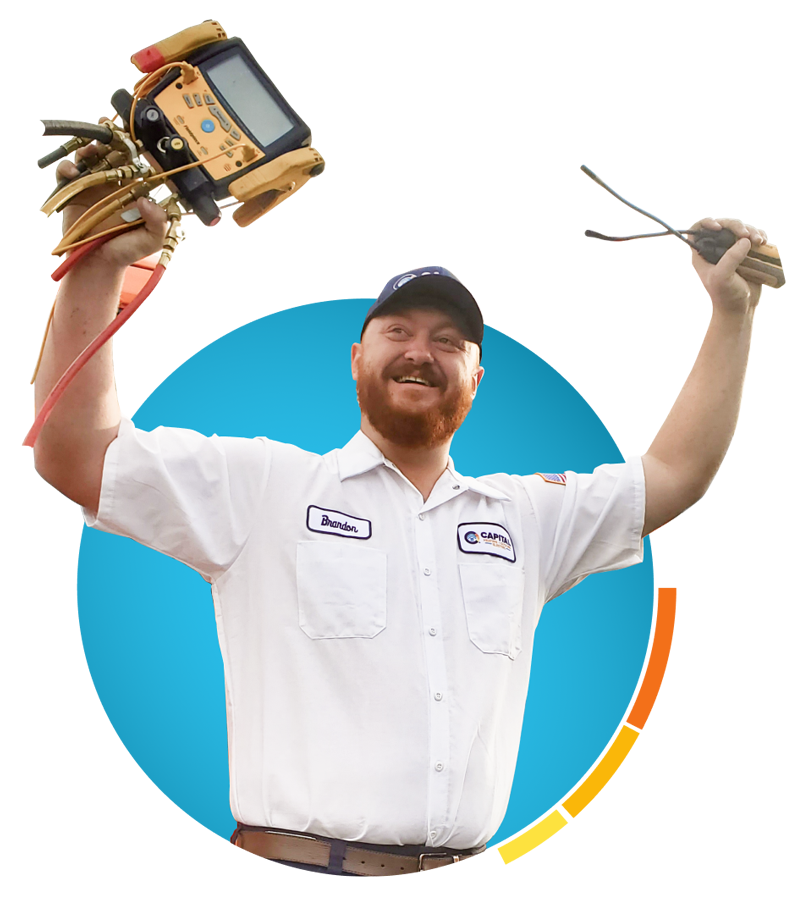 Why Choose Capital?
Capital Guarantees
Capital Heating, Cooling & Electric stands behind all our work. You are covered on the installation of your heating or cooling system by the following guarantees and more:

Your 100% Unconditional Satisfaction Or Your Money-Back Guarantee
5-Year Comfort Guarantee
Exclusive Lemon-Free Guarantee
Lifetime Installation Components & Craftsmanship Guarantee
Lifetime Ductwork Warranty
Flexible Financing
Capital cares to make your life better today, without YOU having to worry about tomorrow. So we also offer a number of financing options to help you with your HVAC system repair or replacement costs.
Capital Communication
We will let you know what to expect on the day of your installation, and introduce you to your Furnace installer before they arrive at your doorstep. At least 24 hours prior to your installation, you'll receive a "Meet Your Installer" email with:
Technicians' photo
# years experience
Photo of the install truck
In Transit text
In addition to the friendly introduction, you can rest assured that the technicians installing your heating system are highly vetted, trained, and nationally accredited. In fact, many of our technicians are relocated from around the country to ensure YOU only get the best.