Cooling Repair, Installation and Maintenance
Same Day Repair, 7 Days a Week
Same Day Installations, 7 Days a Week
AC Beyondifications for season-long comfort
NATE-Certified AC technicians
Capital Repairs Your AC, Same Day
You should never have to wait to get your AC back up and running when it breaks down. That's why we believe in same day repairs, seven days a week. We'll send a Capital technician to save your day, right away!
For emergency cooling repair, call us at 414-316-3467
5 Signs You Need An AC Repair
Milwaukee summers are rough. Don't get stuck with a broken AC. Look for these top five signs your AC unit needs a repair immediately:
Weak airflow from vents
A malfunctioning thermostat
A sudden spike in cooling costs
Loud or unusual noises
Foul, musty or vile odors
If you've noticed any of these signs of AC damage, contact us immediately.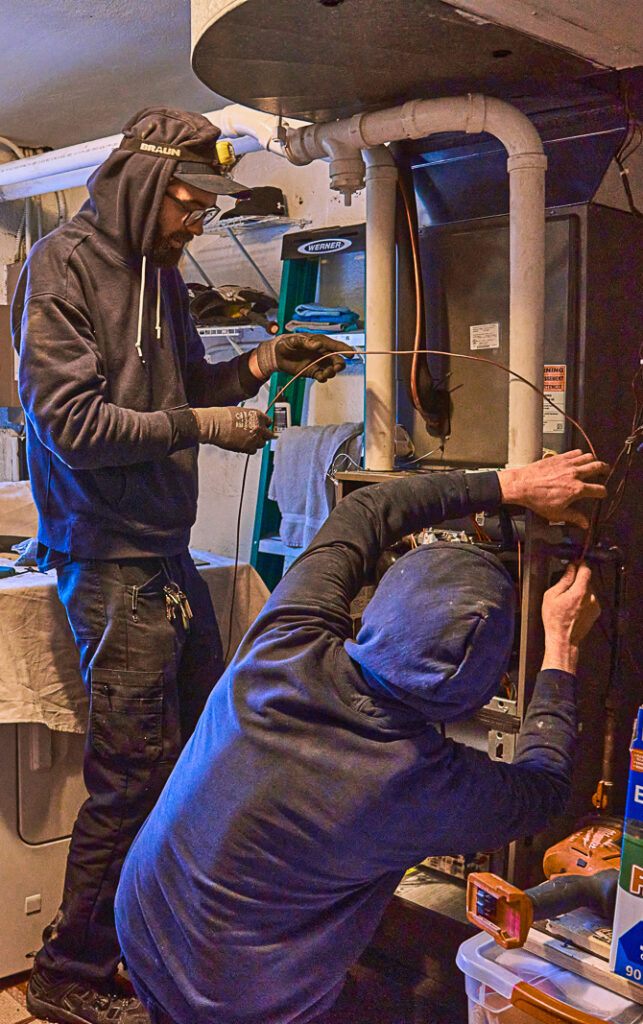 Cooling Installation
Capital's holistic approach to cooling system installation means we look at the big picture to help you choose the unit that fits your specific home, lifestyle and budget.
We're experts at installing every kind of cooling system
Traditional AC systems have several advantages over other cooling options:
1
Designed to cool the entire house evenly so every room is comfortable, regardless of its location or size.
2
Consume less electricity to cool a larger area, which can result in lower energy bills.
3
Generally quieter than other types of air conditioners because the compressor is located outside the house.
4
Do not require any bulky or unsightly units to be placed in windows or rooms.
5
Helps to filter out dust, dirt, and allergens, improving the air quality inside the house.
6
The thermostat can be used to control the temperature in the entire house, making it easy to adjust the temperature to your desired level.
When Capital installs a central air system, we always test the airflow through your ductwork to make sure you have even cooling throughout your house.
On the other hand, ductless air conditioning systems (also known as mini-splits) have some advantages over traditional AC systems:
1
Designed to be flexible and can be installed in a variety of settings, including some settings where a central air system won't work.
2
They use even less energy than traditional systems because they do not require ductwork, which can cause energy loss due to leaks and inefficiencies.
3
Cool different areas of the house independently for greater control over the temperature in different rooms, which can result in energy savings.
4
Easy to install, requiring only a small hole in the wall for the refrigerant lines and electrical wiring, which is ideal for homes where ductwork is not practical or where installation is difficult.
5
Designed to be sleek and unobtrusive. The indoor units can be mounted on walls or ceilings and are available in a variety of styles and colors to match any decor.
Heat pumps are unique in a number of ways:
1
Highly energy-efficient, as they do not generate heat but rather move heat from one place to another.
2
Dual functionality, providing both cooling and heating.
3
More environmentally friendly for air conditioning because they do not burn fossil fuels or emit greenhouse gasses.
4
Designed to maintain a consistent temperature throughout the house, eliminating hot and cold spots.
5
Require less maintenance than traditional air conditioning systems because they have fewer moving parts.
Capital's AC Beyondification
We go beyond when it comes to maintaining your air conditioner, so we don't just do a "tune-up".
We recalibrate your AC to Like New condition
Deep-clean your system
Perform a comprehensive safety check
Maximize efficiency, saving you money on energy bills
And extend the LIFE of your AC system, saving you even more money
And the only thing better than a Capital AC Beyondification is joining the Capital Cares Club, where you get TWO Beyondifications every year (AC and furnace), Front-of-the-Line service, $400 Capital Cash, discounts on repairs, and tons more benefits.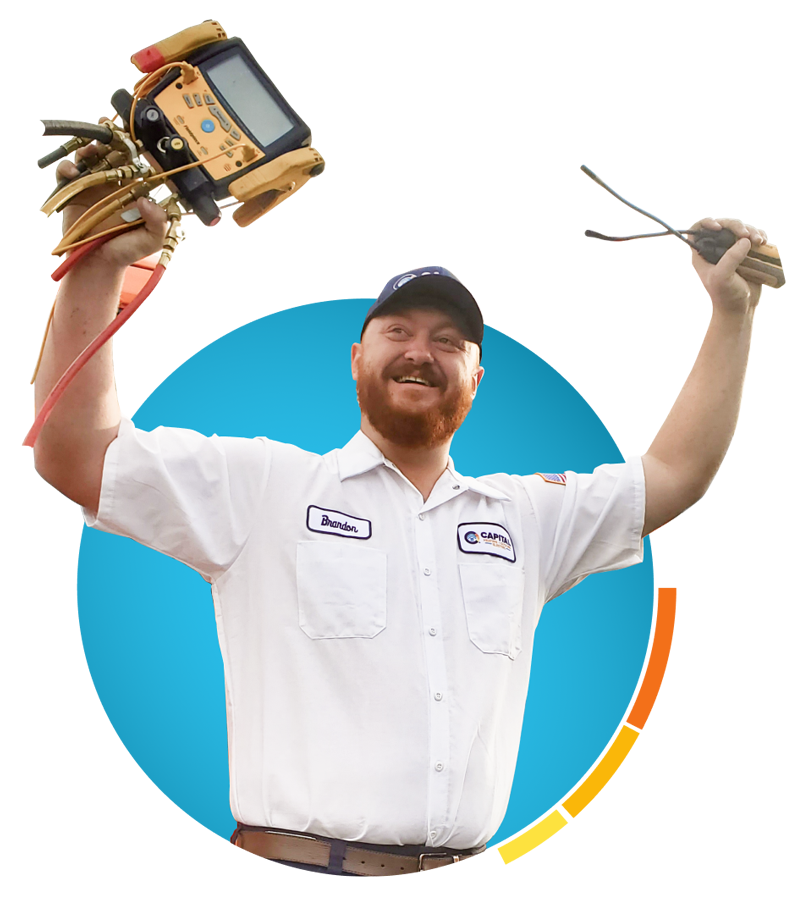 Why Choose Capital?
Capital Guarantees
Capital Heating, Cooling & Electric stands behind all our work. You are covered on the installation of your heating or cooling system by the following guarantees and more:

Your 100% Unconditional Satisfaction Or Your Money-Back Guarantee
5-Year Comfort Guarantee
Exclusive Lemon-Free Guarantee
Lifetime Installation Components & Craftsmanship Guarantee
Lifetime Ductwork Warranty
Flexible Financing
Capital cares to make your life better today, without YOU having to worry about tomorrow. So we also offer a number of financing options to help you with your HVAC system repair or replacement costs.
Capital Communication
We will let you know what to expect on the day of your installation, and introduce you to your Furnace installer before they arrive at your doorstep. At least 24 hours prior to your installation, you'll receive a "Meet Your Installer" email with:
Technicians' photo
# years experience
Photo of the install truck
In Transit text
In addition to the friendly introduction, you can rest assured that the technicians installing your heating system are highly vetted, trained, and nationally accredited. In fact, many of our technicians are relocated from around the country to ensure YOU only get the best.
How much does a new air conditioner cost?
When it comes to how much it costs for a new air conditioner, there's a boat load of conflicting answers out there: Home Advisor says $7,200-$10,500, Back Alley Bob says $1,800 if he can crash on your couch, your neighbors said they paid $1,500 in 1970 and Improve.net says $5,500-$10,000. Not helpful.

Asking how much an air conditioning system costs is pretty much like asking how much a car costs. Are you buying a BMW or a Ford Fiesta? A4 cylinder or a V8? Are low monthly payments or reliability most important? And the list goes on… HVAC isn't much different except the main factors that impact the cost of a new air conditioner include:
Equipment size
Energy Efficiency
Caliber of HVAC company you choose to work with
Financing, tax credits & available rebates
So, as a homeowner with a lot of information at your fingertips it's important to remember the new car analogy when your start to read about the "national averages" or "a typical price ranges." The best way to find out what if would cost to get a new air conditioner installed is talk with one of our comfort advisers. Capital consultations are free and last roughly 90 minutes.
Capital Heating & Cooling provides Cooling System Installations in the Milwaukee Area, including:
Menomonee Falls
Waukesha
Wauwatosa
Brookfield
Whitefish Bay
AC Energy Savings Calculator
High-efficient heating and cooling systems cost less to operate, plain and simple. Use our AC Energy Savings Calculator to see how much money you'll save by replacing your old AC with a new, high-efficiency unit.
Call (414) 662-0950, submit an online form or contact us online to request a FREE in-home consultation.