Duct Cleaning, the Capital Way
Regular duct cleanings are an essential part of home maintenance, and Capital duct cleanings do far more than just clean out your ducts:
Eradicate particulates
Prevent mold
Helps you breathe clean, healthy air
Saves your HVAC system
Our NADCA certified technicians clean your ducts with high-powered trucks, not glorified shop vacs. We believe in taking the time to do the job RIGHT.
Ready for a life-bettering upgrade for you and your family?
Call us day or night, at 414-316-3467
Duct Cleaning Benefits
Eradicate Particulates
If you don't get your ducts cleaned, every bit of dust, dirt, dead skin, bacteria, pollen, cat hair, dog hair and human hair sits in the ductwork, and dries out. Then it breaks up and blows from your home's vents straight into your lungs. It's disgusting if you think about it.
If you don't think you've got a problem, wait for a sunny day and look at that window as the light streams through it and see all that stuff floating in the air. It's no wonder that you're dusting all the time! Capital will clean your ducts with our high-powered trucks and hook you up with a humidifier, so you go from dusting weekly to dusting every few months. That's a fact.
Prevent Mold
If your ductwork gets too moist, the built up particulates in your ventilation system turn into mold, which ends up in your lungs.
Helps You Breathe Clean, Healthy Air
After a Capital duct cleaning, you will be free from the contaminants in your formerly dirty ducts and the allergy and respiratory issues.
You will have new peace of mind when you know that all that dust, dirt, dead skin, bacteria, pollen, cat hair, dog hair and human hair that you and your family have been breathing in is finally eradicated.
Saves Your HVAC System
When we say "system" we're talking about your furnace, your air conditioner, the ductwork, the filters, the registers, safety components, and every other part that makes up your central air system.
Think of your furnace and air conditioner as the lungs of your home, breathing in and out all day. Well, how well do you think your body would run if you were constantly breathing nothing but a bunch of dust, dirt, hair dead skin and pet dander particulates all day, every day? We'll leave that as a rhetorical question.
Dirty ducts impede the flow of air in your home and cause your furnace and air conditioner to work harder. That costs you extra on energy bills and wears out your system faster.
Bottom line is, you need two things for your system to work great, good air flow and clean operating surfaces. Lucky for you, we specialize in those two things.
Ready to Breathe Clean Healthy Air?
Call us day or night, at 414-316-3467
Milwaukee Air Duct Cleaning
Whether you want to get rid of allergens, odors, or all the gunk and funk that's built up in your air ducts, Capital is more than just an award-winning duct cleaning company. We have an entire indoor air quality division that focuses solely on solutions to common problems associated with indoor air pollution.
Capital Heating, Cooling & Electric is certified by the National Air Duct Cleaning Association. We're one of the only NADCA certified duct cleaning companies in SE Wisconsin that uses commercial grade duct cleaning equipment. Additionally, our technicians provide you with before and after pictures to see exactly what you're paying for.
One Price Guarantee
When it comes to duct cleaning costs, it's important to know the total amount ahead of time. That's why only Capital offers a one price guarantee. Which means the price we quote you, is the price you pay. No hidden fees or vents to tally up after the fact.
Our Duct Cleaning Process
When you see how duct cleaning works, it's easier to understand the importance of flat rate pricing and specialized equipment.
The 13 steps below break down exactly what you can expect when you choose Capital to clean the air ducts in your home.
What You Need to Know About Duct Cleaning Costs
When it's time to have your air ducts cleaned, you'll quickly learn that duct cleaning companies charge different prices. The National Air Duct Cleaning Association warns "Beware of advertisements that have "whole house specials" for very low prices. Many of them only include only the main ducts and charge extra for the air handler, blower fans, coils, registers and cutting access. Upon arrival, many of these companies then up-charge to excessive amounts."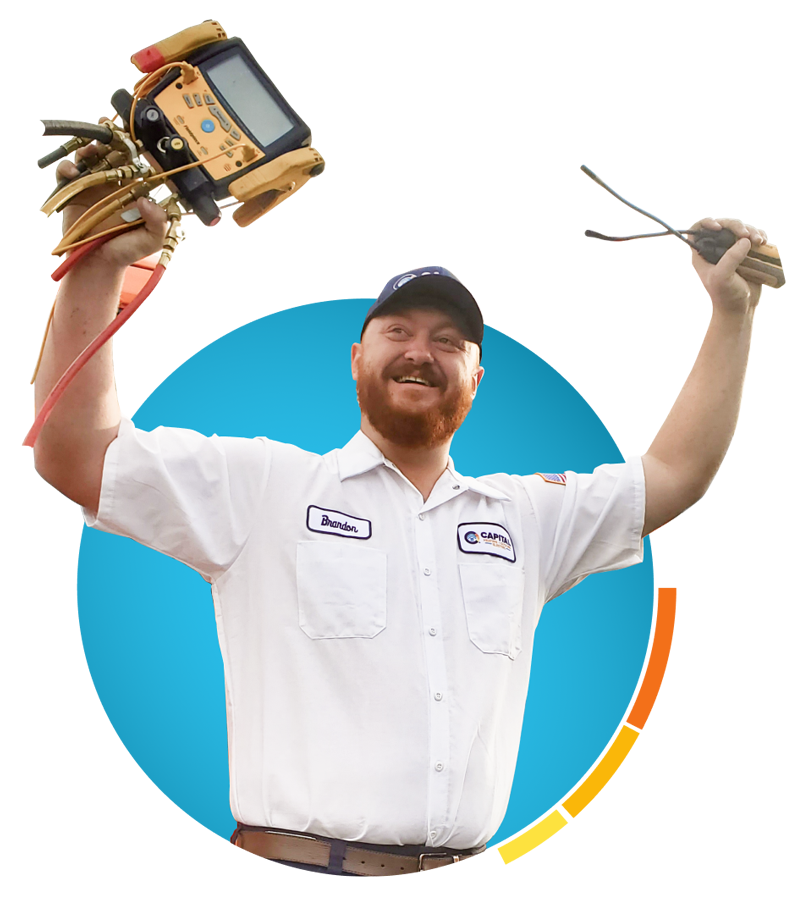 Why Choose Capital?
Capital Guarantees
Capital Heating, Cooling & Electric stands behind all our work. You are covered on the installation of your heating or cooling system by the following guarantees and more:

Your 100% Unconditional Satisfaction Or Your Money-Back Guarantee
5-Year Comfort Guarantee
Exclusive Lemon-Free Guarantee
Lifetime Installation Components & Craftsmanship Guarantee
Lifetime Ductwork Warranty
Flexible Financing
Capital cares to make your life better today, without YOU having to worry about tomorrow. So we also offer a number of financing options to help you with your HVAC system repair or replacement costs.
Capital Communication
We will let you know what to expect on the day of your installation, and introduce you to your Furnace installer before they arrive at your doorstep. At least 24 hours prior to your installation, you'll receive a "Meet Your Installer" email with:
Technicians' photo
# years experience
Photo of the install truck
In Transit text
In addition to the friendly introduction, you can rest assured that the technicians installing your heating system are highly vetted, trained, and nationally accredited. In fact, many of our technicians are relocated from around the country to ensure YOU only get the best.