Breathe Cleaner, Healthier Air with a UV Light
Did you know that indoor air can be up to 100 times more polluted than the air outdoors? Really makes you think about what you and your family are inhaling into your lungs all day, and all night while you sleep with your mouth open.
We can install a UV light that will:
Kill bacteria and viruses
Reduce allergy and asthma triggers
Prevent mold
Stop musty odors
Lower energy use by up to 35%!
And preserve your HVAC equipment
How Do UV Light Air Purifiers Clean My Air
Different pollutants can continually travel through your home's HVAC system, into your air, and then into your lungs causing headaches, respiratory problems, allergies and other health issues. Some of these particulates may even be viruses and bacteria.
But never fear!
Capital can install a state-of-the-art UV light in your HVAC system, and as contaminants circulate through your duct system the UV rays work to destroy harmful microorganisms present in your home's air.
By preventing mold, bacteria, and viruses from growing inside your cooling system and ductwork, you're ultimately preventing them from being circulated throughout your home. UV light air purification technology working in conjunction with your HVAC system is the ideal solution for cleaner, healthier air.
Deeper Dive (for Science Geeks)
The condensation that builds up during the natural cooling process can create a thin, slimy bio-film that adheres to the AC coil and adjacent surfaces. When this happens, the air that passes over the coil to be cooled becomes contaminated with mold spores, viruses, and bacteria. And as your HVAC system circulates the air throughout your home, the contaminants come along with it.
As organic buildup is reduced by the UV lights, you get:
Reduced spread of illnesses like colds and flu
Reduction of volatile organic compounds (VOCs)
Reduction of smells in your home
Improved AC efficiency thanks to a cleaner evaporator coil
You can kill a virus in the air naturally by using UV light technology. These special lights work by simply mimicking the natural disinfectant rays of the sun. UV light shone on a virus will destroy its molecular bond, inactivating it and rendering it useless. UV light is a natural solution in that it leaves no by-products and uses no chemicals.
UV lights used in conjunction with your heating and cooling system also helps it to run more efficiently and effectively, saving on total energy being used and our planet's resources.
A UV Light Can Also Save You Money!
How? As microbial buildup on important HVAC elements is reduced, your system will operate more efficiently, which can translate into reduced energy costs.
Call us today at 414-316-3467 and we can help you and your family start breathing cleaner, healthier air!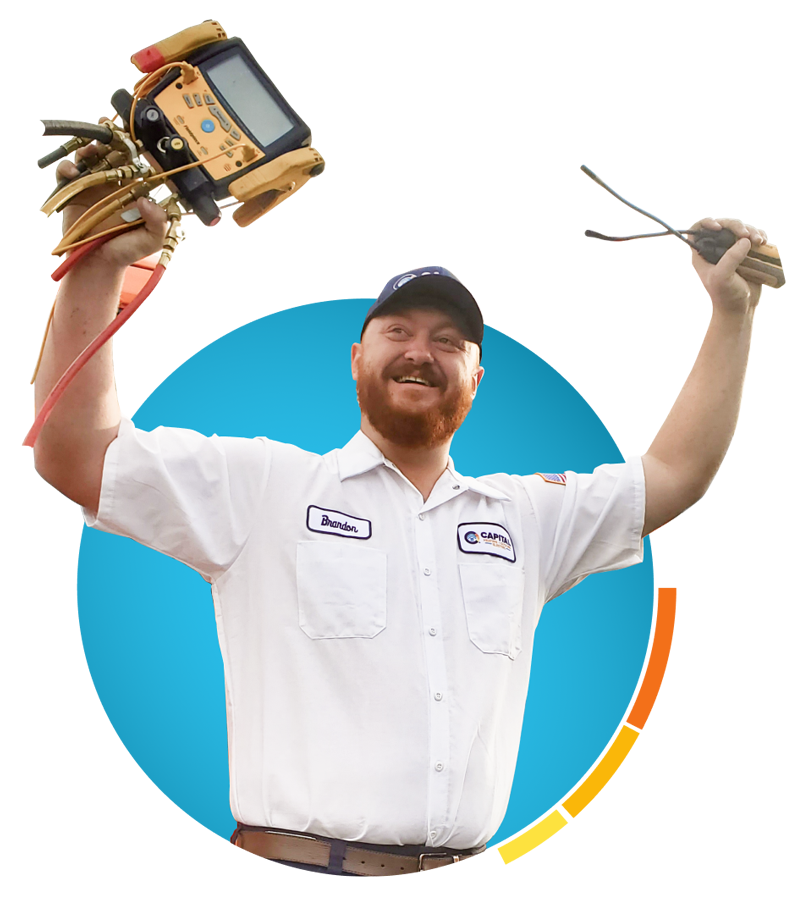 Why Choose Capital?
Capital Guarantees
Capital Heating, Cooling & Electric stands behind all our work. You are covered on the installation of your heating or cooling system by the following guarantees and more:

Your 100% Unconditional Satisfaction Or Your Money-Back Guarantee
5-Year Comfort Guarantee
Exclusive Lemon-Free Guarantee
Lifetime Installation Components & Craftsmanship Guarantee
Lifetime Ductwork Warranty
Flexible Financing
Capital cares to make your life better today, without YOU having to worry about tomorrow. So we also offer a number of financing options to help you with your HVAC system repair or replacement costs.
Capital Communication
We will let you know what to expect on the day of your installation, and introduce you to your Furnace installer before they arrive at your doorstep. At least 24 hours prior to your installation, you'll receive a "Meet Your Installer" email with:
Technicians' photo
# years experience
Photo of the install truck
In Transit text
In addition to the friendly introduction, you can rest assured that the technicians installing your heating system are highly vetted, trained, and nationally accredited. In fact, many of our technicians are relocated from around the country to ensure YOU only get the best.