Heat Pump Repair, Installation, & Replacement
Heat pumps are pretty extraordinary systems, and that's why they are becoming more popular every day. The name is kinda confusing because they heat AND cool your home. More on that in a minute. The main benefits of a heat pump are:
Use less energy so you save on bills
Heat AND cool your home
Independent control over every room
Safer and more durable than traditional systems
Reduced carbon footprint
For heat pump repairs or installations, call us at 414-316-3467
How Do Heat Pumps Work?
Heat pumps use electricity to heat and cool your home, instead of using fuel sources like oil or propane.
There are two main parts to a heat pump system: an outdoor compressor unit, and a refrigerant and piping system powered by an indoor fan wall unit.
In the winter, the outdoor unit collects and compresses low temperature heat from the ground or air, and moves it indoors to heat your home.
During summer, the process is reversed by drawing heat energy from inside your house and sending it out through the outdoor compressor.
Capital believes installing a heat pump is the best way to keep you and your family ridiculously comfortable throughout the year, operating even in the most extreme weather.
Heat pumps can also save you money because they cover as much space as an air conditioner or heating system at a much lower cost.
AND heat pumps are environmentally friendly!
You should never have to wait for comfort, so Capital stands ready to repair your heat pump if you're having any issues whatsoever.
Your heat pump may be in need of service if it is:
Not providing sufficient heating or cooling, or the airflow is weak
Grinding, clicking, squeaking, or rattling
Frequently turning on and off
Leaking water or icing up
Another sign may be dramatically increased energy bills!
Heat Pump Installation
With the hot summers and freezing winters of Milwaukee, your home's heat pump works hard all year long to keep your household at an even, comfortable temperature. That's why the most important day in the life of your heat pump is the day it's installed. At Capital, we have the best systems and guarantee our work, 100%.
Capital cares to deliver red-carpet service on every job, so you can expect several benefits and amenities with your heat pump installation, including:
High-quality, name brand products designed for maximum thermal efficiency
Comprehensive, in-home consultations from trained professionals
Free estimates that are backed by flexible financing solutions
Timely and respectful service from an award-winning, certified crew
Comprehensive service for all repair, maintenance, and installation needs
Same-day and 24/7 emergency appointment availability
Exclusive warranties on craftsmanship, parts, and products
Heat Pump Replacement
When it's time to replace your heat pump, Capital will take the time to do the job right the first time. Our highest-quality products and expert services make us the most trusted name in Milwaukee for heat pump replacements that are:
Backed by exclusive, long-term warranties
Assured with a 100% satisfaction guarantee
Installed by certified, highly trained Capital crews
Protected with our comprehensive repair and maintenance services
Federal Rebates
It looks like the government will cover 30 percent of the total cost of what you paid for your heat pump, including the cost of labor, up to $2,000.
However, please contact us for the most current available rebates since they can change.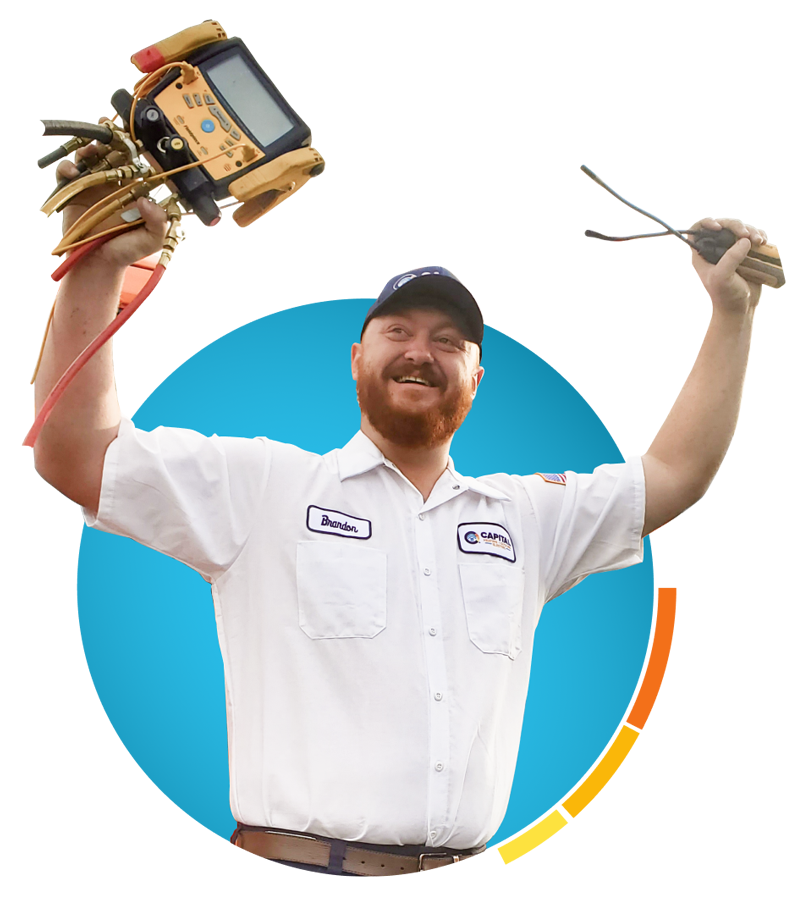 Why Choose Capital?
Capital Guarantees
Capital Heating, Cooling & Electric stands behind all our work. You are covered on the installation of your heating or cooling system by the following guarantees and more:

Your 100% Unconditional Satisfaction Or Your Money-Back Guarantee
5-Year Comfort Guarantee
Exclusive Lemon-Free Guarantee
Lifetime Installation Components & Craftsmanship Guarantee
Lifetime Ductwork Warranty
Flexible Financing
Capital cares to make your life better today, without YOU having to worry about tomorrow. So we also offer a number of financing options to help you with your HVAC system repair or replacement costs.
Capital Communication
We will let you know what to expect on the day of your installation, and introduce you to your Furnace installer before they arrive at your doorstep. At least 24 hours prior to your installation, you'll receive a "Meet Your Installer" email with:
Technicians' photo
# years experience
Photo of the install truck
In Transit text
In addition to the friendly introduction, you can rest assured that the technicians installing your heating system are highly vetted, trained, and nationally accredited. In fact, many of our technicians are relocated from around the country to ensure YOU only get the best.