Heat Pump Repair, Installation, & Replacement
Heat pumps are pretty extraordinary systems, and that's why they are becoming more popular every day. The name is kinda confusing because they heat AND cool your home. More on that in a minute. The main benefits of a heat pump are:
Use less energy so you save on bills
Heat AND cool your home
Independent control over every room
Safer and more durable than traditional systems
Reduced carbon footprint
For heat pump repairs or installations, call us at 414-316-3467
Testimonials
What Our Customers Say
★★★★☆
Anthony and Otilio did an excellent job. They cut the static pressure in my HVAC system in half! They were fast and efficient and left the place as clean as they found it. The price was a bit more than I expected but it was high quality work.
Response from the ownerHi Zach, thank you for providing feedback about your experience with Anthony and Otilio! We are thrilled to hear they were able to lower your HVAC system's static pressure in half and leave your place as clean as they found it. We value your feedback and are happy to see you were satisfied with their quality of work. Thank you for choosing Capital Heating, Cooling, and Electric.
Zach Bernardi
★★★★★
This place was amazing! Had our ducts cleaned by them and that went good. They were professional and clean. Showed us pictures of the before and after work. We then decided to get new air conditioner and heater for our house. The person who scheduled us, Justin, was very professional and answered all of our questions. He also strived to get us the best deal and explained all our options well. We scheduled for the new products the next day and the workers Antonio and Otilio were really good! Antonio explained every step of the process and answered all our questions. Once they were done Antonio did an awesome job of showing us the new system and explained the thermostat well. Overall me and my wife are very satisfied with this company and would highly recommend.
Response from the ownerHi Manuel,Thank you so much for sharing your fantastic experience with us! We are very proud that our Capital Heating & Cooling team could exceed your expectations. We are thrilled that Justin got you the best deal and that both Anthony and Otilio were able to answer all of your questions, show you the new system, and explain the thermostat to you. We are delighted that you and your wife are thrilled with our service and products. We appreciate you leaving such an excellent review, and we look forward to seeing you in the future!
Manuel S
★★★★★
The two technicians Alejandro and Joshua were on time, professional, respectful of my home, were willing and waiting to answer any questions I had, didn't leave until the heating and cooling components of my furnace and air were operational. They also made sure I understood the functions of the newly installed thermostat. This was a great experience for me and I would definitely recommend Capital heating and cooling to anyone.
Response from the ownerThank you so much for such kind words, Bradley! We really appreciate you taking the time to leave a review. Alejandro and Joshua take great pride in the work they do, and we're so glad they took such good care of you and got the job done just right. We look forward to continuing to provide 5-star service for all of our customers. Thank you for your business!
Bradley Scott
★★★★★
We had an amazing experience with Capitol heating, cooling and electrical while having a new furnace/AC installed and air ducks cleaned. All of the employees with Capital were professional, responsible and respectful. We were especially impressed with our experience with Anthony and Otilio's installation of the furnace and AC. I highly recommend them to anyone looking for quality HVAC service and products for your home.
Response from the ownerDear Kateri, Thank you so much for your kind words about our team at Capital Heating & Cooling! We're so pleased to hear that you had an amazing experience with us and that you were so impressed with Anthony and Otilio's work. We're thrilled that you're recommending us to others. We pride ourselves in providing the highest quality HVAC service and products, and we will continue to make sure that our clients have this kind of experience. Warmly, The Capital Heating & Cooling Team
kateri Giehl
★★★★★
Anthony and Otilio installed a new central AC unit and did a wonderful job. They were knowledgeable and did a fantastic job. They were also respectful of my property.
Vicki Burbach (Miss Vicki)
★★★★★
We always get great service with Capital Heating and Cooling.
Response from the ownerHi Tom,Thank you so much for your kind words! We strive to always provide our customers with the highest quality service, and we're delighted to know that you experienced this standard. We look forward to continuing to serve you in the future.Best,Capital Heating & Cooling
Tom Halstead
★★★★★
Have had up and down quality from this company over the past three years. One incident created an extremely dangerous situation for my family. The last straw came when they never showed for an appointment. When I called to find out why, they claim to have called me and emailed me. I have no email or calls or messages from them as they claim to have "in their records".I've given them two stars instead of one for two reasons: James, who installed my furnace and AC, and Logan, who tried to fix my AC gave me an honest assessment of the situation. If I had been able to work with people like these two upstanding men in all my interactions with this company, I'd still be a customer. If you chose to go with Capital for your needs, just make sure to request James for your installs and Logan as your tech. They do 10 stars out of 5 quality work. Thank you James and Logan! I hope you get well deserved raises!!Updated 8/23/23:I gave Capital another chance after a year since I had some a/c issues that were covered by warranty. This is not the same company I worked with in the past. Between Anthony and Skandar, we had unbelievably thorough work, explained every detail, corrected some previous by errors techs who are no longer with the company, and gave me the confidence to change my review to 5 out of 5.
Soccer Fan
★★★★★
Great service and the technicians were very knowledgeable and kind
Response from the owner.Hi Daniel, Thank you so much for the kind words and 5 star rating! We are thrilled that you had an excellent experience with Capital Heating & Cooling and appreciate your feedback. We strive to deliver exceptional service and it's gratifying to know we succeeded in making your experience a positive one. We value your business and are glad you chose us! Sincerely, Capital Heating & Cooling
Daniel Cichy
★★★★★
Anthony and the guys did a great job and answered all our questions about the new HVAC system.
Response from the ownerHi Bryan, thank you so much for taking the time to leave us a 5-star review! We are so glad to hear that Anthony and his team were able to answer all of your questions about the new HVAC system. We are proud to offer the best service possible here at Capital Heating & Cooling and we appreciate your recommendations. Thank you so much!
Bryan A
★★★★★
The guys were prompt, professional, and did a great job. They made sure any questions were answered.
Response from the ownerHi Steven, Thank you very much for your review of Capital Heating & Cooling! We're thrilled that we were able to provide a prompt, professional experience that gave you the answers you needed. It's our great pleasure to be of service to you, and we thank you for your support!
Steven Roneid
★★★★★
Very efficient and friendly service. Josh called ahead and did the work on the furnace in a professional way.
David Wand
★★★★★
Anthony and Otilio are fantastic people! They did an outstanding job and explained everything they did! My AC was on for only a couple minutes and an amazing improvement to my home! Thank you again! (My pets and lungs thank you too!)
Response from the ownerHi HootingCat 227, thank you so much for your 5-star review of Capital Heating & Cooling! We are delighted to hear that Anthony and Otilio made an outstanding improvement to your home and you were pleased with the job they did. We are thrilled that your pets and lungs are thanking us too. We strive to make sure our customers have an amazing experience and we appreciate your feedback. Thank you again!
HootingCat 227
★★★★★
I had Arno and James at my house today to troubleshoot my A/C. They were both very professional and knowledgeable. It didn't take long for them to diagnose the problems and come up with a action plan for repairs. They explained and showed me the all the issues. They make a Great team! I highly recommend using them for your A/C and heating needs.
Response from the ownerHi Chris, thank you for such a wonderful 5-star review for Capital Heating & Cooling! We are so pleased that Arno and James were able to quickly troubleshoot your A/C issues and provide a plan for repairs. We are so glad to know you were pleased with their professionalism, knowledge, and teamwork. Thank you for recommending us for all your A/C and heating needs. We appreciate your business!
Chris Colby
★★★★★
Our electrician, Chad, was on time and completed the Tesla wall charger installation in half of the estimated time. The work was professionally completed including cleanup. Chad is an excellent electrician and I highly recommend him and Capitol Heating Cooling and Electrical.
Response from the ownerssgeraci, we are thrilled to hear about your excellent experience with our electrician, Chad! We are always proud to hear that our employees provide excellent customer service and efficient work. We sincerely thank you for the 5-star review and the kind words about our service. Thank you for choosing Capital Heating & Cooling and Electrical.
ssgeraci
★★★★★
Jamie was very professional and knowledgeable and walked my through the process of a furnace tune up, he was so helpful, I appreciate his work and I am so pleased with my wonderful experience with Jamie.
Response from the ownerHi Hannah! Thank you so much for the amazing 5-star review of Jamie! We're thrilled you had such a wonderful experience and that Jamie was so helpful and knowledgeable. We always strive to provide superior customer service, and we're glad we could do that for you. We deeply appreciate you taking the time to share your review and we're so pleased you're happy with the service you received. Thank you for choosing Capital Heating & Cooling!
Hannah Gronowski
★★★★★
Our Central Air stopped working, called a different company, they were unable to repair, and replacement was 2 weeks wait. Called Capital and they arrived within an hour, new Central Air installed within 2 hours. Amazing service! Quick to respond, polite and professional. I will recommend them to everyone!
Response from the ownerVictoria, your kind words have made our day! We are humbled to have received 5-stars from you, and are overjoyed that we were able to resolve your central air problem and keep you comfortable in your home. At Capital Heating & Cooling, we strive to provide excellent service, and take pride in our team's ability to be speedy and thorough. Thank you for taking the time to share your experience with us--we're grateful for your recommendation!
Victoria Lusz
★★★★★
I had my AC go out. They were quick to respond. What I like how they were honest with my situation. I worked in construction for years and know that they were not going to sell me what I needed. Installation was great and super friendly.Overall a great job.
Response from the ownerThank you, Mark, for taking the time to review Capital Heating & Cooling. We're delighted to hear you found us quick, honest and did a great job with the installation. We really appreciate your business and are glad to have served you. If you ever need us in the future, or know anyone that does, please don't hesitate to get in touch and we'd be more than happy to help. Thanks again!
Mark Christiansen
How Do Heat Pumps Work?
Heat pumps use electricity to heat and cool your home, instead of using fuel sources like oil or propane.
There are two main parts to a heat pump system: an outdoor compressor unit, and a refrigerant and piping system powered by an indoor fan wall unit.
In the winter, the outdoor unit collects and compresses low temperature heat from the ground or air, and moves it indoors to heat your home.
During summer, the process is reversed by drawing heat energy from inside your house and sending it out through the outdoor compressor.
Capital believes installing a heat pump is the best way to keep you and your family ridiculously comfortable throughout the year, operating even in the most extreme weather.
Heat pumps can also save you money because they cover as much space as an air conditioner or heating system at a much lower cost.
AND heat pumps are environmentally friendly!
You should never have to wait for comfort, so Capital stands ready to repair your heat pump if you're having any issues whatsoever.
Your heat pump may be in need of service if it is:
Not providing sufficient heating or cooling, or the airflow is weak
Grinding, clicking, squeaking, or rattling
Frequently turning on and off
Leaking water or icing up
Another sign may be dramatically increased energy bills!
Heat Pump Installation
With the hot summers and freezing winters of Milwaukee, your home's heat pump works hard all year long to keep your household at an even, comfortable temperature. That's why the most important day in the life of your heat pump is the day it's installed. At Capital, we have the best systems and guarantee our work, 100%.
Capital cares to deliver red-carpet service on every job, so you can expect several benefits and amenities with your heat pump installation, including:
High-quality, name brand products designed for maximum thermal efficiency
Comprehensive, in-home consultations from trained professionals
Free estimates that are backed by flexible financing solutions
Timely and respectful service from an award-winning, certified crew
Comprehensive service for all repair, maintenance, and installation needs
Same-day and 24/7 emergency appointment availability
Exclusive warranties on craftsmanship, parts, and products
Heat Pump Replacement
When it's time to replace your heat pump, Capital will take the time to do the job right the first time. Our highest-quality products and expert services make us the most trusted name in Milwaukee for heat pump replacements that are:
Backed by exclusive, long-term warranties
Assured with a 100% satisfaction guarantee
Installed by certified, highly trained Capital crews
Protected with our comprehensive repair and maintenance services
Federal Rebates
It looks like the government will cover 30 percent of the total cost of what you paid for your heat pump, including the cost of labor, up to $2,000.
However, please contact us for the most current available rebates since they can change.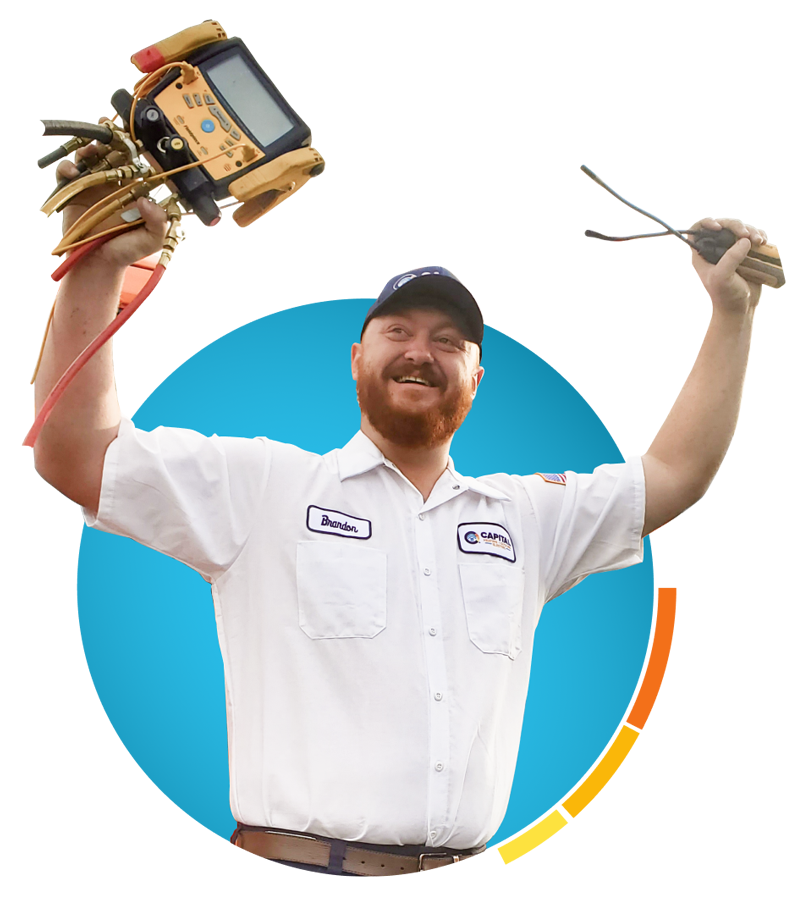 Why Choose Capital?
Capital Guarantees
Capital Heating, Cooling & Electric stands behind all our work. You are covered on the installation of your heating or cooling system by the following guarantees and more:

Your 100% Unconditional Satisfaction Or Your Money-Back Guarantee
5-Year Comfort Guarantee
Exclusive Lemon-Free Guarantee
Lifetime Installation Components & Craftsmanship Guarantee
Lifetime Ductwork Warranty
Flexible Financing
Capital cares to make your life better today, without YOU having to worry about tomorrow. So we also offer a number of financing options to help you with your HVAC system repair or replacement costs.
Capital Communication
We will let you know what to expect on the day of your installation, and introduce you to your Furnace installer before they arrive at your doorstep. At least 24 hours prior to your installation, you'll receive a "Meet Your Installer" email with:
Technicians' photo
# years experience
Photo of the install truck
In Transit text
In addition to the friendly introduction, you can rest assured that the technicians installing your heating system are highly vetted, trained, and nationally accredited. In fact, many of our technicians are relocated from around the country to ensure YOU only get the best.