A recovery ventilator, also known as an energy recovery ventilator (ERV), is a type of ventilation system that helps to improve indoor air quality while also
Increasing energy efficiency
Improving air quality
Providing consistent comfort
A recovery ventilator works by exchanging the stale indoor air with fresh outdoor air, but instead of simply exhausting the indoor air and bringing in outdoor air, it uses a heat exchanger to transfer heat and humidity from the outgoing air to the incoming air.
Still with us?
That helps to pre-condition the incoming air, making it closer in temperature and humidity to the indoor air, which can reduce the load on the heating and cooling system.
Call Capital today at 414-316-3467
Advantages of Recovery Ventilators
Overall, recovery ventilators provide a great way to improve indoor air quality while reducing energy consumption and improving comfort in your home.
Is It Right For Me?
Recovery ventilators are particularly useful in homes that are tightly sealed or have high levels of insulation, as these types of houses may be more prone to poor indoor air quality and humidity levels.
If you have respiratory problems, allergies, or other health issues that may be aggravated by poor indoor air quality, you could also greatly benefit from a recovery ventilator. These systems can effectively remove pollutants, allergens, and other contaminants from the indoor air, which can improve the overall health and well-being of you and your family.
Recovery ventilators are also ideal for homes in areas with extreme weather conditions, such as very hot or cold temperatures, as they can help to maintain a consistent indoor temperature and humidity level while reducing energy consumption.
The Difference Between ERV and HRV
The main difference between an Energy Recovery Ventilator (ERV) and a Heat Recovery Ventilator (HRV) is the type of heat exchange mechanism they use to transfer heat and moisture between the incoming and outgoing air streams.
An HRV transfers only heat between the incoming and outgoing airstreams, while an ERV transfers both heat and moisture. This means that an ERV is more effective in humid climates, as it can help to regulate indoor humidity levels by transferring moisture from the incoming to the outgoing air.
In cold climates, an HRV is more effective because it can recover heat from the outgoing air to preheat the incoming air, which can reduce heating costs. In warmer climates, an ERV is more effective because it can help to reduce the load on the cooling system by transferring some of the moisture and heat from the incoming air to the outgoing air.
Both HRVs and ERVs provide similar benefits, such as improved indoor air quality, reduced energy consumption, and improved comfort. The choice between an HRV or ERV depends on the specific climate conditions, as well as the indoor air quality and ventilation requirements of the building or home.
Our friendly Capital call-takers are standing by to answer your questions!
HRV AND ERV INSTALLATION
If you're having trouble deciding between an HRV or ERV system, we can discuss the benefits and assess the needs of your home.
HRV AND ERV REPLACEMENT
Every HRV or ERV system will need to be replaced eventually. If yours is struggling, call us and we'll see if we can repair it, and if not, what it would take to replace it.
HRV AND ERV REPAIR
If something goes wrong with your home's HRV or ERV system, our Capital reaper techs will be there to solve the problem. Please don't hesitate to call us.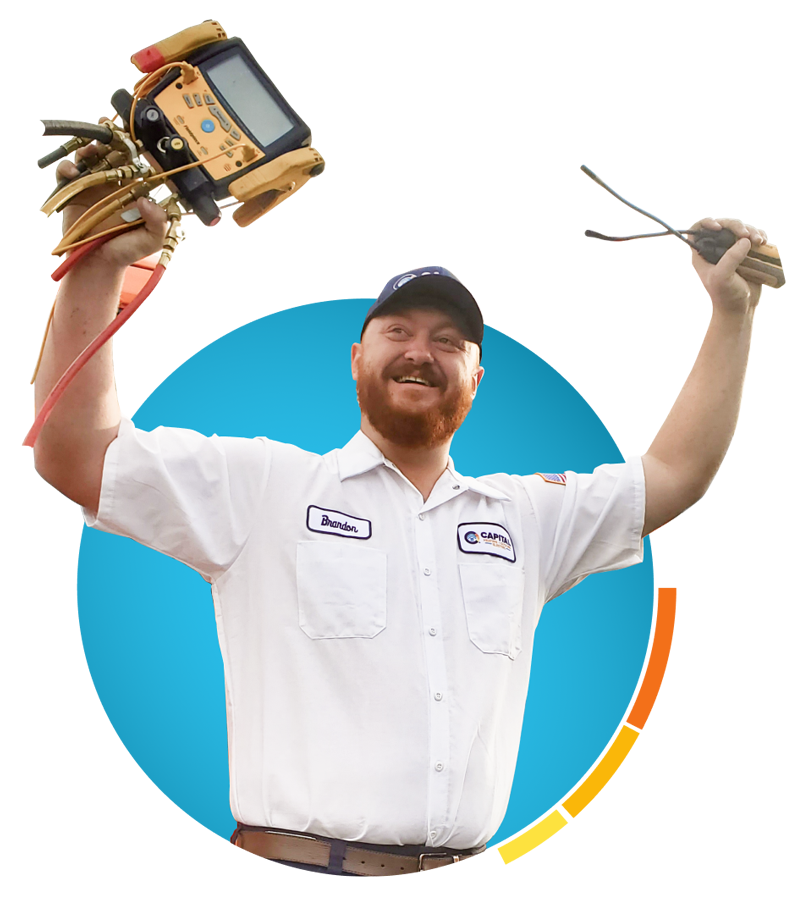 Why Choose Capital?
Capital Guarantees
Capital Heating, Cooling & Electric stands behind all our work. You are covered on the installation of your heating or cooling system by the following guarantees and more:

Your 100% Unconditional Satisfaction Or Your Money-Back Guarantee
5-Year Comfort Guarantee
Exclusive Lemon-Free Guarantee
Lifetime Installation Components & Craftsmanship Guarantee
Lifetime Ductwork Warranty
Flexible Financing
Capital cares to make your life better today, without YOU having to worry about tomorrow. So we also offer a number of financing options to help you with your HVAC system repair or replacement costs.
Capital Communication
We will let you know what to expect on the day of your installation, and introduce you to your Furnace installer before they arrive at your doorstep. At least 24 hours prior to your installation, you'll receive a "Meet Your Installer" email with:
Technicians' photo
# years experience
Photo of the install truck
In Transit text
In addition to the friendly introduction, you can rest assured that the technicians installing your heating system are highly vetted, trained, and nationally accredited. In fact, many of our technicians are relocated from around the country to ensure YOU only get the best.