Seal Your Ducts with Defendo-Seal
"Earth's Mightiest Technicians wield the futuristic power of Defendo-Seal technology."
Lower Bills.
Better Air.
Greater Comfort.
Defend your MONEY
by reducing energy bills through sheer structural efficiency.
Defend your HEALTH
by significantly improving the quality of the air you breathe.
Defend your FAMILY
by fortifying your home into a fortress of perpetual comfort.
Defend your MONEY
Every leak in your ductwork effects the efficiency of your system and makes it more expensive for you to heat or cool your home.
95% of all homes have leaky ductwork.
The typical system on the low-end leaks 20%!
That means that AT LEAST one-fifth all the money you spend on your heating and cooling, and as much as 40%, is simply thrown away. Pushed into spaces that shouldn't be air conditioned or heated, like your attic or basement and the spaces between your walls.
Imagine going to the gas pump and pouring 20% to 40% of your tank of gas right onto the ground when you fill it up. Watch all that hit the ground and close your tank and realize that you've paid for a full tank of gas but are driving away with only 60% to 80% of your tank full. And that's what you do EVERY SINGLE DAY in your house.
Pouring almost half a tank of gas out onto the ground?! That's crazy! And what's crazier is most people don't know about it. We don't think about it because we simply cool our house when we want it cool and heat it when we want it heated and we don't think about waste because that's the way it's always been. That's just what you've always paid.
With Defendo-Seal, those days are OVER.
Defend your HEALTH
You'll not only have stronger airflow coming out of your vents, Defendo-Seal blocks out bacteria, dirt, dust and allergens, so you breathe clean, healthy air, all day and all night while you're sleeping.
The compound that makes Defendo-Seal work is a non-toxic marvel of human engineering. It deploys nanoparticles through your ductwork which find and bind every leaky part of your ducts until it seals up tight.
You may need a duct cleaning prior to the Defendo-Sealing of your ducts. The last thing you want is to glue dirt, dust and debris inside your ductwork. We'll inspect your ductwork first, and let you know if you DON'T need a duct cleaning. If you DO need one, and want us to proceed, we'll clean your ducts with our high-powered trucks to prepare your ductwork system for the deployment of Defendo-Seal.
Defend your FAMILY
Here's what we'll do to fortify your home into a fortress of perpetual comfort:
Our Mighty Technicians will arrive at your house on YOUR schedule, hook up our futuristic computer we call "The Computator", which runs an algorithm that inspects your entire duct system for leakage. It calculates how large a hole in total inches you have in your ductwork.
For example, if all the duct leakage points collectively form a 90 inch hole, then you know you're blowing air or heat through a 90 inch hole into spaces that shouldn't be air conditioned or heated like your attic or basement, and the spaces between your walls.
"The Computator" will generate another report that says, for example, Defendo-Seal has successfully shrunk your 90 inch hole to a 5 inch hole.
NOTE: Attaining a zero-inch hole is not yet technologically achievable nor necessary to produce the significant savings, and improvement in health and comfort that Defendo-Seal guarantees.
You will stand in awe of the airflow you feel in your house after we Defendo-Seal your ducts, and you and your family will stay comfortable all year long, year AFTER year!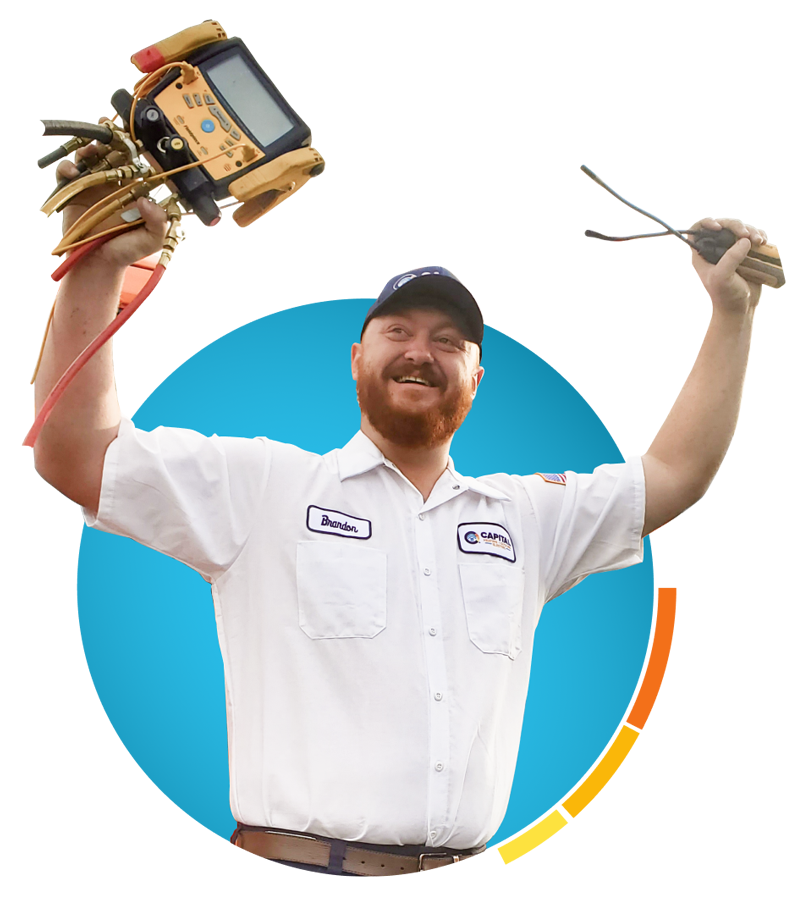 Why Choose Capital?
Capital Guarantees
Capital Heating, Cooling & Electric stands behind all our work. You are covered on the installation of your heating or cooling system by the following guarantees and more:

Your 100% Unconditional Satisfaction Or Your Money-Back Guarantee
5-Year Comfort Guarantee
Exclusive Lemon-Free Guarantee
Lifetime Installation Components & Craftsmanship Guarantee
Lifetime Ductwork Warranty
Flexible Financing
Capital cares to make your life better today, without YOU having to worry about tomorrow. So we also offer a number of financing options to help you with your HVAC system repair or replacement costs.
Capital Communication
We will let you know what to expect on the day of your installation, and introduce you to your Furnace installer before they arrive at your doorstep. At least 24 hours prior to your installation, you'll receive a "Meet Your Installer" email with:
Technicians' photo
# years experience
Photo of the install truck
In Transit text
In addition to the friendly introduction, you can rest assured that the technicians installing your heating system are highly vetted, trained, and nationally accredited. In fact, many of our technicians are relocated from around the country to ensure YOU only get the best.