You Deserve to Breathe Cleaner, Healthier Air
"Indoor air quality" is just a fancy term for "the air you breathe". You don't often think about it as a critical aspect of your home comfort, but it is. And it has a direct impact on your health.
Capital will:
Test for allergen particles, chemicals, humidity, and other factors
Explain the results to you step-by step
Create a detailed plan to better your air quality
Capital's Air Quality Audit
Because Capital believes you deserve to breathe clean, healthy air, we go WAY beyond the standard air quality test. We use a state-of-the-art computational device we call "The Detecto-rator" which scans your home's air with multiple sensors. It detects and measures anything that could be harmful to you and your family.
Particulates
Chemicals
Carbon Dioxide
Carbon Monoxide
Humidity Levels
The Detectorator determines exactly what you're breathing in your home all day and all night while you're sleeping with your mouth open.
Side note for the science geeks: the Detectorator measures micrograms per cubic meter in your home's atmosphere, runs the data through an advanced computation process, and kicks back readings in parts per million.
Here's the Best Part
Running the Detectorator costs $125 bucks each time, but when you get a Capital Beyondification, we insist on firing it up for FREE to make sure you know what's going on with your home's air.
Contact us for ANY of your air quality needs in Milwaukee, WI and surrounding areas. Even if you only have a question, we love talking about the air you breathe!
Life-Bettering System Installations
Even a small improvement in your home's air quality makes a BIG difference. We've got the best HVAC technicians in the state. They'll give you choices and help you determine what will most improve your life:
Air Filtration Systems
Air Purifiers
Duct Cleaning
Duct Sealing and Testing
Duct Installation and Replacement
Humidifiers and Dehumidifiers
Heat and Energy Recovery Ventilators
Air Improvement System Repair
There's no home air quality system on earth that Capital technicians can't fix. We live and breathe air purification, and yes, that pun was intended.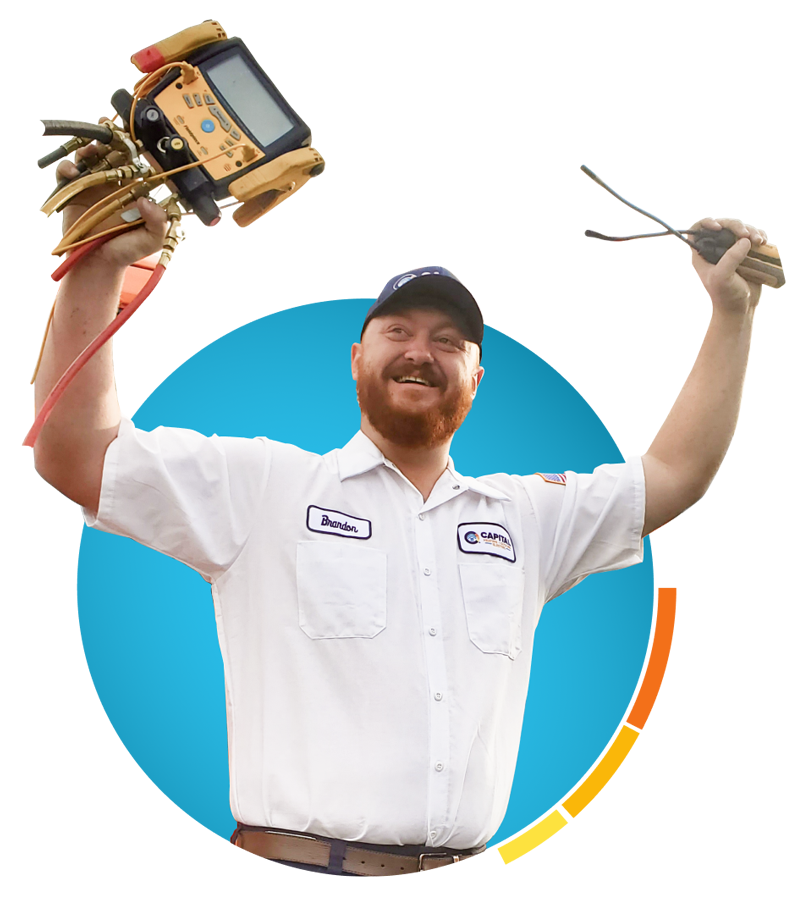 Why Choose Capital?
Capital Guarantees
Capital Heating, Cooling & Electric stands behind all our work. You are covered on the installation of your heating or cooling system by the following guarantees and more:

Your 100% Unconditional Satisfaction Or Your Money-Back Guarantee
5-Year Comfort Guarantee
Exclusive Lemon-Free Guarantee
Lifetime Installation Components & Craftsmanship Guarantee
Lifetime Ductwork Warranty
Flexible Financing
Capital cares to make your life better today, without YOU having to worry about tomorrow. So we also offer a number of financing options to help you with your HVAC system repair or replacement costs.
Capital Communication
We will let you know what to expect on the day of your installation, and introduce you to your Furnace installer before they arrive at your doorstep. At least 24 hours prior to your installation, you'll receive a "Meet Your Installer" email with:
Technicians' photo
# years experience
Photo of the install truck
In Transit text
In addition to the friendly introduction, you can rest assured that the technicians installing your heating system are highly vetted, trained, and nationally accredited. In fact, many of our technicians are relocated from around the country to ensure YOU only get the best.