You Deserve to Breathe Cleaner, Healthier Air
"Indoor air quality" is just a fancy term for "the air you breathe". You don't often think about it as a critical aspect of your home comfort, but it is. And it has a direct impact on your health.
Capital will:
Test for allergen particles, chemicals, humidity, and other factors
Explain the results to you step-by step
Create a detailed plan to better your air quality
Testimonials
What Our Customers Say
★★★★★
I requested to have quote to install a EV charger in our garage. I was able to schedule one in a week and Adam showed up at the door right on time to inspect how much would that cost. He was very professional and explained very clearly how the technician will work on the installation. He also made the process easy by sending me two different options via email for me to choose which one I'd like to go with. After accepting one of the options someone called and scheduled the installation. Erich came out and installed everything professionally. Price was reasonable and we could not be happier with how easy the process went.
Angela Kao
★★★★☆
The technician (Luis) was very polite, professional, and knowledgeable. He explained the process and answered all my questions.
Abeautiflife Mine
★★★★★
**EDITED REVIEW**Noone can really expect perfection out of a business, especially when that company is large and well known. I experienced a few issues throughout my process, but to be fair - my situation was highly unique and I had an extremely firm and inflexible expectation.Capital quickly jumped into action and corrected the situation. By quickly, I mean - within 45 minutes.Sure, perfection is the goal. But what really matters is how a company responds when things aren't perfect (because they won't always be). Capital stands by their service and products, and I'm appreciative of their actions to get us to the point of the project's end goal//my vision.Upgraded from 1 to 5 stars. Unmatched support. Thank you!!
Kevin Thompson
★★★★★
Service was exceptional. Justin, Nick, David, and Jacob were awesome!
kristin schiestle
★★★★★
Had my HVAC system serviced and ducts cleaned. Both technicians were excellent
Daniel Krueger
★★★★★
Very informative and helpful.
Bev Kuszewski
★★★★★
Have always had a positive experience with Capital Heating & Cooling! They're prompt, great communication before, during and after and upfront on needs for our HVAC needs. We had Kyle out, who did a great job letting us know of any issues, solutions and did the repair.
Jessie Nimm
★★★★★
We had the pleasure of having Giovanni come to our house to have our ACs checked for the summer. He was the ultimate professional and his communication skills were top notch. So very pleased with his service and the entire team at Capital Heating & Cooling.
Joey Mullins
★★★★★
The technicians that were doing the job were very responsible, and very respectable young men.
Darlene
★★★★★
My experience with Kyle, Justin, Nick, Tony and others that were on the job was above and beyond. The service was so thorough, and they were all very good communicators, they were very respectful, and they gave 110% to my needs. The work was done quickly and they made sure that EVERYTHING was functioning at its best. I will recommend Capital to everyone as I hear of needs.
Joanne Pelczynski
★★★★★
I was able to make a same day appt. And they showed up ready to wrk about an hr later. Very professional , quick and knowledgeable. I would highly recommend
Jennifer Thorn
★★★★★
This post is about the excellent customer service, namely from Tyler. I heard their commercials on the radio and wanted to give them a call. It's been great customer service since day 1. I've had all my questions answered to my satisfaction. I'm looking forward to seeing the work they do. I have great confidence so far just based on my customer service experience.
Henry Guell
★★★★★
We have NEVER worked with a company that was as thorough as this one. Anthony, Jordan and team were all exceptional and took the time to explain and advise on what was appropriate for our situation. I cannot say enough positive things about this great company. Awesome job and good, honest people.
April Windham
★★★★★
Arno was great. Always top notch professional service with capital. I continue to be pleased.
J N
★★★★★
Professional, respectful, and quick quote provided. Now just waiting to schedule the install.
Jeremiah Parve
★★★★★
Amani and Kyle did a great jobs with my duct cleaning and ac repairs respectively. Thanks!
Adriana Olivia
★★★★★
I scheduled an appointment to fix a dryer outlet that wasn't providing enough voltage to heat a brand new dryer. Jacob discovered that the machine hadn't been connected properly and that there were no electrical issues. Despite spending 30 minutes checking and double-checking for any issues, I was not charged. That doesn't happen very often anymore. I will definitely use Capital Heating in the future and recommend you to friends and neighbors. Thank you!
Sue Jennings
★★★★☆
Hired Capital Heating & Cooling do an annual A/C check for me. Communication regarding appointment, actual service technician and his arrival time were accurate and convenient. Service tech Kyle was very professional and respectful of my house (used shoe covers each time in & out of the house). After service was performed, he walked me through the condition of my AC and gave me several recommendations, but I didn't feel pressured to purchase any on the spot. Took 1 star off because the solicitation for feedback was a little overboard, as I received several messages by text and email.
Mike M
★★★★★
Super happy with the service
Santiago Romero
★★★★★
The technician, Anthony, was very friendly and helpful to my mother and my boyfriend. I received my estimate very promptly. I've used Capital HVAC previously and have always been very pleased with the service and I would recommend them.
Mari Luna
Capital's Air Quality Audit
Because Capital believes you deserve to breathe clean, healthy air, we go WAY beyond the standard air quality test. We use a state-of-the-art computational device we call "The Detecto-rator" which scans your home's air with multiple sensors. It detects and measures anything that could be harmful to you and your family.
Particulates
Chemicals
Carbon Dioxide
Carbon Monoxide
Humidity Levels
The Detectorator determines exactly what you're breathing in your home all day and all night while you're sleeping with your mouth open.
Side note for the science geeks: the Detectorator measures micrograms per cubic meter in your home's atmosphere, runs the data through an advanced computation process, and kicks back readings in parts per million.
Here's the Best Part
Running the Detectorator costs $125 bucks each time, but when you get a Capital Beyondification, we insist on firing it up for FREE to make sure you know what's going on with your home's air.
Contact us for ANY of your air quality needs in Milwaukee, WI and surrounding areas. Even if you only have a question, we love talking about the air you breathe!
Life-Bettering System Installations
Even a small improvement in your home's air quality makes a BIG difference. We've got the best HVAC technicians in the state. They'll give you choices and help you determine what will most improve your life:
Air Filtration Systems
Air Purifiers
Duct Cleaning
Duct Sealing and Testing
Duct Installation and Replacement
Humidifiers and Dehumidifiers
Heat and Energy Recovery Ventilators
Air Improvement System Repair
There's no home air quality system on earth that Capital technicians can't fix. We live and breathe air purification, and yes, that pun was intended.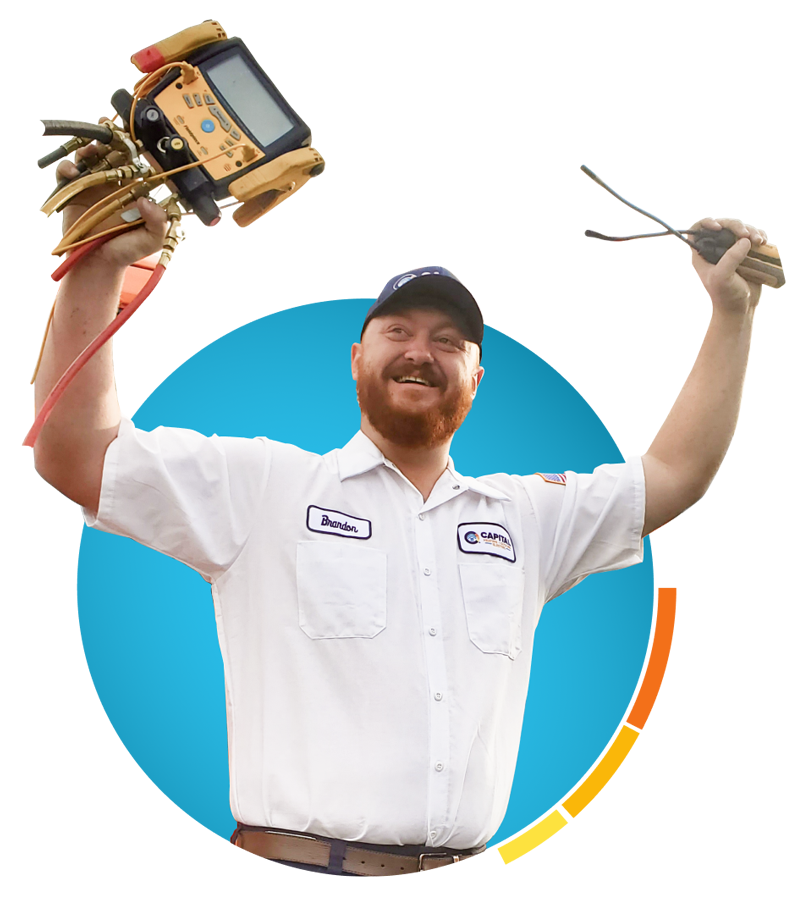 Why Choose Capital?
Capital Guarantees
Capital Heating, Cooling & Electric stands behind all our work. You are covered on the installation of your heating or cooling system by the following guarantees and more:

Your 100% Unconditional Satisfaction Or Your Money-Back Guarantee
5-Year Comfort Guarantee
Exclusive Lemon-Free Guarantee
Lifetime Installation Components & Craftsmanship Guarantee
Lifetime Ductwork Warranty
Flexible Financing
Capital cares to make your life better today, without YOU having to worry about tomorrow. So we also offer a number of financing options to help you with your HVAC system repair or replacement costs.
Capital Communication
We will let you know what to expect on the day of your installation, and introduce you to your Furnace installer before they arrive at your doorstep. At least 24 hours prior to your installation, you'll receive a "Meet Your Installer" email with:
Technicians' photo
# years experience
Photo of the install truck
In Transit text
In addition to the friendly introduction, you can rest assured that the technicians installing your heating system are highly vetted, trained, and nationally accredited. In fact, many of our technicians are relocated from around the country to ensure YOU only get the best.