Breathe Clean, Healthy Air at Home
Poor air quality in your home could be causing coughing, congestion, even headaches. But Capital specializes in fighting indoor pollutants by helping you find the best air purifier for your needs.
Stop Inhaling:
Bacteria Particulates
Pet Dander and Hair
Dust
Allergens
Viruses
Mold
Odors & Smoke
Types of Air Purifiers
HEPA Air Purifiers
HEPA (High-Efficiency Particulate Air) purifiers are the most common type of air purifier. They work by filtering out particles as small as 0.3 microns from the air. This includes dust, pollen, pet dander, and other allergens. HEPA filters are highly effective and can remove up to 99.97% of airborne particles.
UV light technology can destroy up to 99% of airborne viruses and bacteria. UV-C air purifiers use ultraviolet (UV) light to kill bacteria, viruses, and other germs in the air. They work by emitting short-wavelength UV-C light that damages the DNA of microorganisms, making them unable to reproduce. These purifiers are effective at eliminating airborne pathogens and are super useful during cold and flu season.
Activated Carbon Air Purifiers
Activated carbon air purifiers use a type of carbon that has been treated with oxygen to make it highly porous. This allows it to trap chemicals, gases, and odors in the air. Activated carbon filters are effective at removing smoke, cooking odors, and other volatile organic compounds (VOCs).
Ionic Air Purifiers
Ionic air purifiers use negatively charged ions to attract and trap particles in the air. They work by emitting a stream of ions into the air, which attach to airborne particles and make them too heavy to remain suspended. The particles then fall to the ground or are captured by a collector plate. Ionic purifiers can be effective at removing pollutants such as mold spores and bacteria, but they can also produce ozone, which can be harmful in high concentrations.
Ozone Air Purifiers
Ozone air purifiers work by producing ozone gas, which reacts with pollutants in the air and breaks them down. This can be effective at removing strong odors and killing bacteria, but ozone can also be harmful in high concentrations. Ozone purifiers should be used with caution and according to manufacturer instructions.
Leave It To Capital
There are many different types of air purifiers available, each with its own strengths and weaknesses. HEPA purifiers are highly effective at removing allergens and particles from the air, while UV-C purifiers can kill germs and bacteria. Activated carbon filters are effective at removing odors and chemicals, while ionic purifiers can remove mold spores and bacteria.
Ozone purifiers can be effective at removing strong odors, but they should be used with caution. When choosing an air purifier, it's important to consider your specific needs and to select a purifier that is appropriate for your home and lifestyle.
Our Capital service representatives are standing by to answer your questions right now! Give us a call.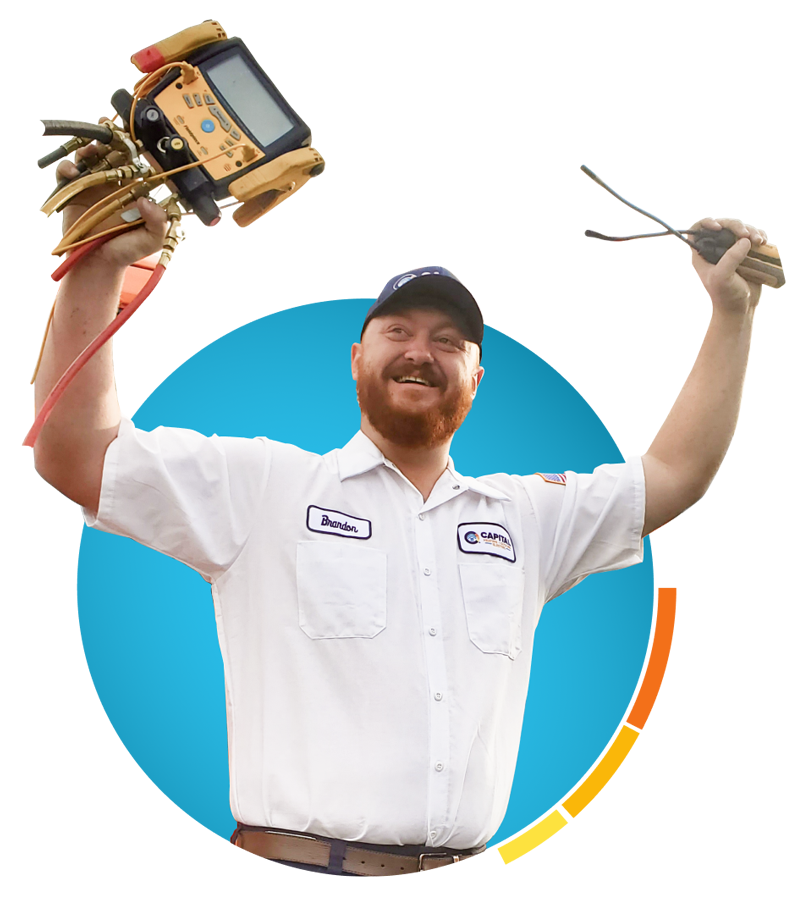 Why Choose Capital?
Capital Guarantees
Capital Heating, Cooling & Electric stands behind all our work. You are covered on the installation of your heating or cooling system by the following guarantees and more:

Your 100% Unconditional Satisfaction Or Your Money-Back Guarantee
5-Year Comfort Guarantee
Exclusive Lemon-Free Guarantee
Lifetime Installation Components & Craftsmanship Guarantee
Lifetime Ductwork Warranty
Flexible Financing
Capital cares to make your life better today, without YOU having to worry about tomorrow. So we also offer a number of financing options to help you with your HVAC system repair or replacement costs.
Capital Communication
We will let you know what to expect on the day of your installation, and introduce you to your Furnace installer before they arrive at your doorstep. At least 24 hours prior to your installation, you'll receive a "Meet Your Installer" email with:
Technicians' photo
# years experience
Photo of the install truck
In Transit text
In addition to the friendly introduction, you can rest assured that the technicians installing your heating system are highly vetted, trained, and nationally accredited. In fact, many of our technicians are relocated from around the country to ensure YOU only get the best.