Milwaukee Electrical Panel Upgrades
100% Satisfaction Guarantee
Friendly and Knowledgeable Electricians
State Licensed Electricians
For electrical panel replacement, call us at 414-316-3467
Electrical Panel Upgrades In Milwaukee, WI & Surrounding Areas
Need an electrical panel upgrade in the Milwaukee area? Trust the professional, licensed, skilled electricians of Capital Heating & Cooling!
Your electrical panel is the main hub of your home's electrical system. It's important that it's kept in good condition so that your appliances will work properly. If your panel has not been tended to in a while, it may not be able to properly support the current electrical demands of your home and family. Not to mention, older panels can actually pose a safety threat since the risks of electrical fire increase over time.
How Can I Tell If I Need An Electrical Upgrade?
You may benefit from an upgrade if any of the following apply to you:
You feel warmth if you touch your electrical panel
The breaker trips regularly
Lights flicker or dim often
Your electrical panel is older than 20-30 years
Your panel emits a burning smell
Appliances don't seem to run properly
You need more outlets in your home
You plan to add more appliances
If you're tired of dealing with troublesome breaker trips or are concerned about the safety of your older electrical panel, don't hesitate to seek the help of a professional electrician. Electrical work can be highly dangerous, so it is best to leave it to trained experts.
Our Electricians Are Ready To Help You
Call us at 414-316-3467 for 5-star electrical panel services today! Our electricians are fully licensed and have the experience to complete your electrical panel upgrade quickly and effectively so you can get back to enjoying your electricity worry-free.
We also offer other electrical services like whole house generator installation and installation of a wide range of Nest products.
Here are a few reasons people trust our award-winning team:
We offer a 100% Satisfaction Guarantee
Our electricians are friendly & knowledgeable
We are Better Business Bureau accredited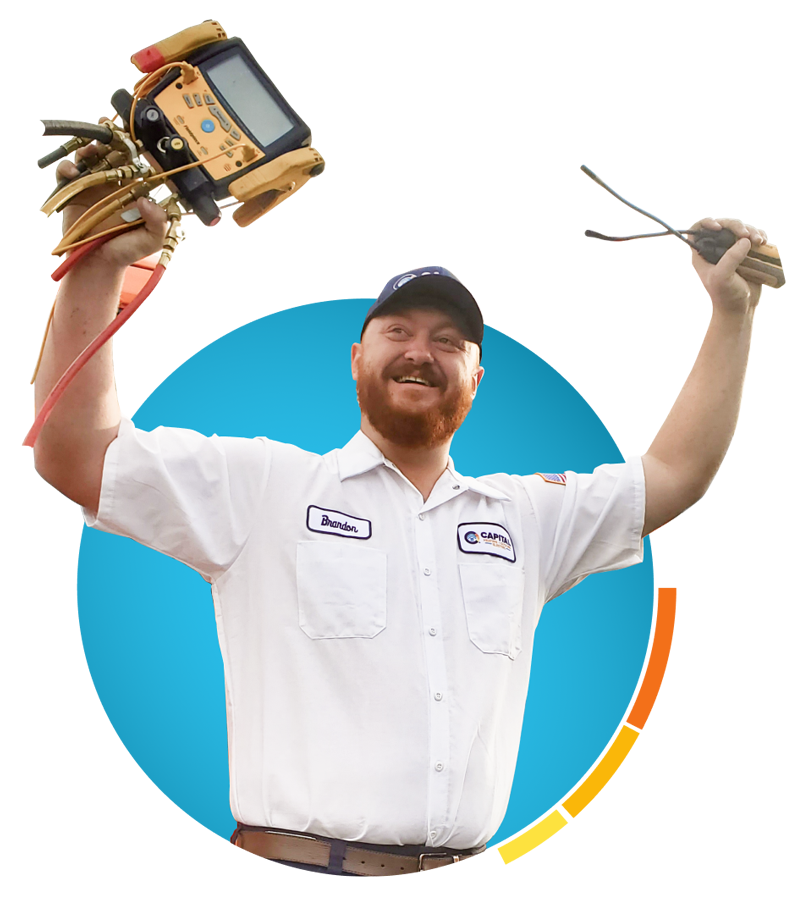 Why Choose Capital?
Capital Guarantees
Capital Heating, Cooling & Electric stands behind all our work. You are covered on the installation of your heating or cooling system by the following guarantees and more:

Your 100% Unconditional Satisfaction Or Your Money-Back Guarantee
5-Year Comfort Guarantee
Exclusive Lemon-Free Guarantee
Lifetime Installation Components & Craftsmanship Guarantee
Lifetime Ductwork Warranty
Flexible Financing
Capital cares to make your life better today, without YOU having to worry about tomorrow. So we also offer a number of financing options to help you with your HVAC system repair or replacement costs.
Capital Communication
We will let you know what to expect on the day of your installation, and introduce you to your Furnace installer before they arrive at your doorstep. At least 24 hours prior to your installation, you'll receive a "Meet Your Installer" email with:
Technicians' photo
# years experience
Photo of the install truck
In Transit text
In addition to the friendly introduction, you can rest assured that the technicians installing your heating system are highly vetted, trained, and nationally accredited. In fact, many of our technicians are relocated from around the country to ensure YOU only get the best.