Your electrical panel is the main hub of your home's electrical system. If your panel has not been inspected in a while, there's no way to know if it can support the current electrical demands of your home and family. Older panels can actually pose a safety threat since the risks of electrical fire increase over time.
Call Capital's Friendly and Fully Licensed Electricians today at (414) 316-3467 and we'll make sure you're A-OK.
How Can I Tell If I Need An Electrical Upgrade?
You may benefit from an upgrade if any of the following apply to you:
Your electrical panel feels warm
The breaker trips regularly
Lights flicker or dim often
Your electrical panel is 20+ years old
Your panel emits a burning smell
Appliances don't seem to run properly
You need more outlets in your home
You plan to add more appliances
If you're tired of dealing with troublesome breaker trips or are concerned about the safety of your older electrical panel, don't hesitate to seek the help of a professional electrician. Electrical work can be highly dangerous, so it is best to leave it to trained experts.
Why Electrical Panel Upgrades Are Important
Increased electrical capacity: One of the main reasons for an electrical panel upgrade is to increase the electrical capacity of your home. Older electrical panels may not have sufficient capacity to handle the electrical demands of modern appliances, electronics, and technology. Upgrading to a larger panel allows for the addition of more circuits and ensures that your electrical system can handle the load without overloading or tripping breakers.
Enhanced safety: Outdated electrical panels may not meet current safety standards or have outdated components that can pose safety risks. Electrical panel upgrades often involve installing modern panels that are equipped with advanced safety features such as circuit breakers with arc fault circuit interrupters (AFCIs) and ground fault circuit interrupters (GFCIs). These safety devices help protect against electrical fires and electrical shocks, reducing the risk of accidents and injuries.
Code compliance: Electrical codes and regulations are regularly updated to ensure the safety and reliability of electrical systems. When you upgrade your electrical panel, it is an opportunity to bring your electrical system up to code compliance. This is particularly important if you are planning to sell your property or if you want to ensure the safety and integrity of your electrical system.
Accommodating additional electrical loads: If you plan to add new appliances, equipment, or electrical features to your home, such as a hot tub, electric vehicle charger, or home addition, you may require an electrical panel upgrade to handle the increased electrical load. Upgrading the panel results in your electrical system being able to support the new additions without overloading the circuits.
Improved reliability: A properly sized and upgraded electrical panel reduces the risk of electrical issues such as frequent tripped breakers, flickering lights, and power outages. By distributing electrical loads effectively, an upgraded panel can enhance the overall reliability and stability of your electrical system, providing consistent power supply to all areas of your home.
Insurance requirements: Some insurance companies require homes to have electrical systems that meet certain safety standards. An electrical panel upgrade may be necessary to fulfill these requirements and maintain your insurance coverage.
Testimonials
What Our Customers Say
★★★★★
I requested to have quote to install a EV charger in our garage. I was able to schedule one in a week and Adam showed up at the door right on time to inspect how much would that cost. He was very professional and explained very clearly how the technician will work on the installation. He also made the process easy by sending me two different options via email for me to choose which one I'd like to go with. After accepting one of the options someone called and scheduled the installation. Erich came out and installed everything professionally. Price was reasonable and we could not be happier with how easy the process went.
Angela Kao
★★★★☆
The technician (Luis) was very polite, professional, and knowledgeable. He explained the process and answered all my questions.
Abeautiflife Mine
★★★★★
**EDITED REVIEW**Noone can really expect perfection out of a business, especially when that company is large and well known. I experienced a few issues throughout my process, but to be fair - my situation was highly unique and I had an extremely firm and inflexible expectation.Capital quickly jumped into action and corrected the situation. By quickly, I mean - within 45 minutes.Sure, perfection is the goal. But what really matters is how a company responds when things aren't perfect (because they won't always be). Capital stands by their service and products, and I'm appreciative of their actions to get us to the point of the project's end goal//my vision.Upgraded from 1 to 5 stars. Unmatched support. Thank you!!
Kevin Thompson
★★★★★
Service was exceptional. Justin, Nick, David, and Jacob were awesome!
kristin schiestle
★★★★★
Had my HVAC system serviced and ducts cleaned. Both technicians were excellent
Daniel Krueger
★★★★★
Very informative and helpful.
Bev Kuszewski
★★★★★
Have always had a positive experience with Capital Heating & Cooling! They're prompt, great communication before, during and after and upfront on needs for our HVAC needs. We had Kyle out, who did a great job letting us know of any issues, solutions and did the repair.
Jessie Nimm
★★★★★
We had the pleasure of having Giovanni come to our house to have our ACs checked for the summer. He was the ultimate professional and his communication skills were top notch. So very pleased with his service and the entire team at Capital Heating & Cooling.
Joey Mullins
★★★★★
The technicians that were doing the job were very responsible, and very respectable young men.
Darlene
★★★★★
My experience with Kyle, Justin, Nick, Tony and others that were on the job was above and beyond. The service was so thorough, and they were all very good communicators, they were very respectful, and they gave 110% to my needs. The work was done quickly and they made sure that EVERYTHING was functioning at its best. I will recommend Capital to everyone as I hear of needs.
Joanne Pelczynski
★★★★★
I was able to make a same day appt. And they showed up ready to wrk about an hr later. Very professional , quick and knowledgeable. I would highly recommend
Jennifer Thorn
★★★★★
This post is about the excellent customer service, namely from Tyler. I heard their commercials on the radio and wanted to give them a call. It's been great customer service since day 1. I've had all my questions answered to my satisfaction. I'm looking forward to seeing the work they do. I have great confidence so far just based on my customer service experience.
Henry Guell
★★★★★
We have NEVER worked with a company that was as thorough as this one. Anthony, Jordan and team were all exceptional and took the time to explain and advise on what was appropriate for our situation. I cannot say enough positive things about this great company. Awesome job and good, honest people.
April Windham
★★★★★
Arno was great. Always top notch professional service with capital. I continue to be pleased.
J N
★★★★★
Professional, respectful, and quick quote provided. Now just waiting to schedule the install.
Jeremiah Parve
★★★★★
Amani and Kyle did a great jobs with my duct cleaning and ac repairs respectively. Thanks!
Adriana Olivia
★★★★★
I scheduled an appointment to fix a dryer outlet that wasn't providing enough voltage to heat a brand new dryer. Jacob discovered that the machine hadn't been connected properly and that there were no electrical issues. Despite spending 30 minutes checking and double-checking for any issues, I was not charged. That doesn't happen very often anymore. I will definitely use Capital Heating in the future and recommend you to friends and neighbors. Thank you!
Sue Jennings
★★★★☆
Hired Capital Heating & Cooling do an annual A/C check for me. Communication regarding appointment, actual service technician and his arrival time were accurate and convenient. Service tech Kyle was very professional and respectful of my house (used shoe covers each time in & out of the house). After service was performed, he walked me through the condition of my AC and gave me several recommendations, but I didn't feel pressured to purchase any on the spot. Took 1 star off because the solicitation for feedback was a little overboard, as I received several messages by text and email.
Mike M
★★★★★
Super happy with the service
Santiago Romero
★★★★★
The technician, Anthony, was very friendly and helpful to my mother and my boyfriend. I received my estimate very promptly. I've used Capital HVAC previously and have always been very pleased with the service and I would recommend them.
Mari Luna
Our Capital Electricians Are Ready To Help YOU
Call us at (414) 316-3467 for 5-star electrical service today!
There's nothing we can't do,from installation to repair to other electrical services like whole house generator installation and installation of a wide range of Nest products.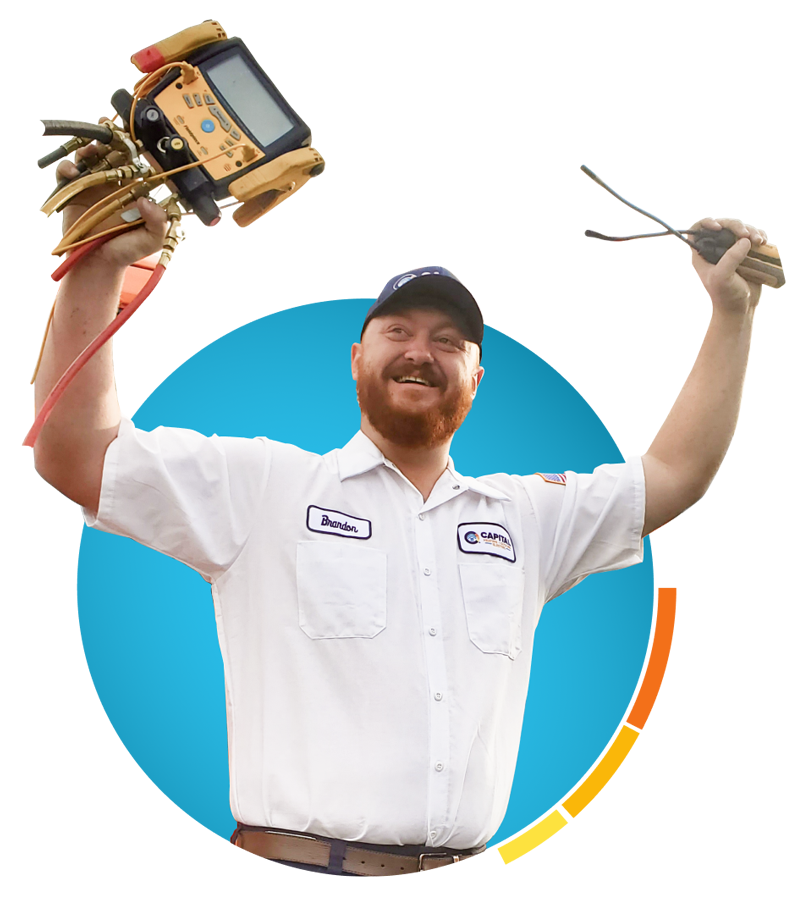 Why Choose Capital?
Capital Guarantees
Capital Heating, Cooling & Electric stands behind all our work. You are covered on the installation of your heating or cooling system by the following guarantees and more:

Your 100% Unconditional Satisfaction Or Your Money-Back Guarantee
5-Year Comfort Guarantee
Exclusive Lemon-Free Guarantee
Lifetime Installation Components & Craftsmanship Guarantee
Lifetime Ductwork Warranty
Flexible Financing
Capital cares to make your life better today, without YOU having to worry about tomorrow. So we also offer a number of financing options to help you with your HVAC system repair or replacement costs.
Capital Communication
We will let you know what to expect on the day of your installation, and introduce you to your Furnace installer before they arrive at your doorstep. At least 24 hours prior to your installation, you'll receive a "Meet Your Installer" email with:
Technicians' photo
# years experience
Photo of the install truck
In Transit text
In addition to the friendly introduction, you can rest assured that the technicians installing your heating system are highly vetted, trained, and nationally accredited. In fact, many of our technicians are relocated from around the country to ensure YOU only get the best.