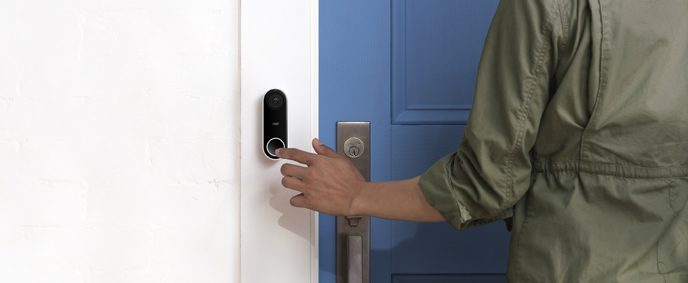 Knock knock…Who's there? You'll never wonder again with the Nest Hello video doorbell. Replace your existing wired doorbell with this hi-tech version and you'll not only increase your security, but you'll be able to see who's at your door even when you're not home. The team at Capital Heating & Cooling recommends the Nest Hello video doorbell for its security, its quality, and its ease of use.
Always Know Who's at Your Door
Nest Hello video doorbell is designed to show you everything at your doorstep. Unlike other camera doorbells, you can see people head to toe and any packages left on the ground. This doorbell has all the features you need to feel safe and secure including:
24/7 streaming and continuous video recording (not just sound or motion triggered)
4:3 HD video (designed to show people head to toe)
A 160 degree field of view
HDR video for sharp details even in very bright or very dark areas
Person, motion, and sound alerts to detect all visitors
Recognizes family and friends and sends a special alert
Allows you to use pre-recorded quick responses
3-hour snapshot history to review earlier footage
HD Talk and Listen reduces competing noise so visitors' voices come through crystal clear.
Nest Hello can tell the difference between a person and a thing, then alert you, even if a visitor doesn't ring the bell. With Nest Aware, it can also let you know if it spots a stranger or someone you know.
If you're concerned about home security, or just want to see who's at your front door, learn more about the Nest Hello video doorbell.
Schedule an appointment with the Nest pros!
If you would like immediate assistance, please call or text 414-316-3467.