Air Conditioning Installation Done RIGHT
Whether you're replacing your old AC or adding it to your home for the first time, Capital Heating & Cooling is an award-winning HVAC company that breaks the mold in many ways.  For example, our holistic approach to air conditioning installation means we look at the big picture to help you design an air conditioning system that tailored to your home, lifestyle, and budget.
Get Our AC Install Gong Guarantees!
All Capital Guarantees are "gong-worthy"
AC Energy Savings Calculator
High-efficient heating and cooling systems cost less to operate, plain and simple.  Use our AC Energy Savings Calculator to see how much money you'll save by replacing your old AC with a new, high-efficient unit.

Lifetime Workmanship Guarantee on AC Replacements
Air conditioning installations by Capital Heating & Cooling come with an all-inclusive lifetime workmanship guarantee.  Which means that if any part of your new air conditioning system installed by Capital fails due to our workmanship, we'll make it right at no charge to you.
---
Meet Capital's AC Installers
Capital Heating & Cooling explains what to expect the day of your installation, and introduces you to your AC installer before they arrive at your doorstep.  At least 24 hours prior to your installation,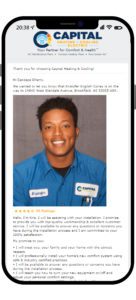 you'll receive a "Meet Your Installer" email with:
Technicians' photo
# years experience
Photo of the install truck
What to expect video & text
View sample "What to Expect" email
In addition to the friendly introduction, you can rest assured that the technicians installing your AC are highly vetted, trained, and nationally accredited. In fact, many of our technicians are relocated from around the country to ensure YOU only get the best.
Air Conditioning Installation FAQ's
What kind of guarantee does Capital Heating & Cooling offer?
Capital Heating & Cooling stands behind all our work with multiple guarantees.  Those most relevant to the installation of your air conditioning system include:
Lifetime Workmanship Guarantee
We provide an all-inclusive LIFETIME workmanship promise on the products & installation of your system.
Your 100% Unconditional Satisfaction Or Your Money-Back Guarantee
The job will be done 100% Right, or you get 100% of your money back. If you aren't happy at any time for 24 months after we install your new AC or furnace, we will do whatever it takes to make it right.
5-Year Comfort Guarantee
If you've had us install and maintain your system, we guarantee you will always have the most ideal temperature in your home (70 degrees when it's cold, 75 degrees when it's hot) even in extreme weather conditions, for 5 years after installation.
Exclusive Lemon-Free Guarantee
As long as you've had us maintain your system annually, we will replace your entire unit if your compressor or heat pump fails within 5 years of the installation date, or replace your entire furnace if your heat exchanger fails within 10 years.
Lifetime Installation Components & Craftsmanship Guarantee
If we installed it, WE own any issues regarding our installation of any major motor-bearing piece of equipment for life.
Lifetime Ductwork Warranty
All ductwork we install is guaranteed not to fail, fall down or fall apart, or we replace it for FREE.
Respect and Installation Workmanship Guarantee
Speed, accuracy and precision. We take pride in our work and Capital service. Our technicians are the most professional in the business. They will behave perfectly, review the agreement and entire scope of work with you, and explain exactly what they've done after they're finished.
Property Protection Plus Guarantee
Your home is your castle and we treat it accordingly. We ensure every inch of your personal property will be protected while we work, and if anything is damaged (which is unlikely) we will have it professionally repaired.
Better-Than-We-Found-It Guarantee
We guarantee we'll leave your home better than we found it, or pay a professional and bonded cleaning service to come to your home and clean it in its entirety.
"Worry Free, Peace of Mind" Guaranteed Equipment Operation
As long as you have us maintain your system and belong to our Capital Cares Club, we guarantee the worry free, peace of mind operation and satisfactory performance of your equipment for the term listed on your comfort system investment agreement.
$100 Same Day Service Promise
As long as your system is under warranty, we'll give you $100 if we don't respond to your call same day.
$500 Guaranteed Installation Date Guarantee
Once you've selected an installation date, we guarantee we'll be there on the promised date by 10am or we pay you $500.
$500 No Worries 1st Year Operation Guarantee
If your system that we installed breaks down and fails to heat or cool your home during the first two years, we will fix it FREE within 24 hours and give you $100 every day your system wasn't working, up to $500 for your inconvenience, towards any new equipment or service we offer.
$500 Not A Day Without Comfort Promise
If we are not able to repair or replace your system (or provide temporary heating or cooling) the same day we begin the work, we will pay for you and your family to stay in a nice area hotel and pay all reasonable expenses, PLUS give you $500 for your inconvenience.
Best Investment Value Guarantee
"Apples to apples" we are the best value for your investment dollar. Our lowest price guarantee is our promise to you that you cannot find a licensed contractor with drug free NATE certified employees to provide a comparable installation with all our written warranties and guarantees and service after the job is complete for less. If you do, we'll write you a check for the difference plus $500. We can do this because we know nobody else comes close to meeting our stringent criteria to ensure your complete happiness with every aspect of the work.
Lifetime "No Overtime" Service Guarantee
Our commitment to you remains long after the installation date. Capital proudly extends to all our valued Capital Cares Club members a lifetime of "No Overtime" service support. You'll never pay extra, which over the life of your system can add up to hundreds of dollars in savings.
Equipment Size/Type Guarantee
You are not responsible for determining the correct equipment size, type, application or installation procedures the product installed will cool heat your home to your satisfaction or be replaced at no charge with the appropriate components.
Provisional Comfort Promise
We will act immediately to provide heating or cooling if you do not have a working system, including room units or temporary replacement equipment if necessary, to get you and your family immediate relief and restore maximum comfort in your home.
Warranty and Rebate Registration Guarantee
While many contractors delegate these tasks to you, Capital believes you deserve a higher level of customer service. 40% of contractors never register the manufacturer warranty on the equipment they installed., cutting your warranty in HALF. While THEY save time, YOUR coverage suffers. Capital Cares to guarantee registration of the equipment we installed with the manufacturer and get you all available rebates.
To learn more about these guarantees and more, check out Capital Heating & Cooling's Guarantees.
Capital Heating & Cooling provides Air Conditioner Installations in the Milwaukee Area, including:
Menomonee Falls
Waukesha
Wauwatosa
Brookfield
Whitefish Bay
How much does a new air conditioner cost?
When it comes to how much it costs for a new air conditioner, there's a boat load of conflicting answers out there:  Home Advisor says $7,200-$10,500, Back Alley Bob says $1,800 if he can crash on your couch, your neighbors said they paid $1,500 in 1970 and Improve.net says $5,500-$10,000.  Not helpful.
Asking how much an air conditioning system costs is pretty much like asking how much a car costs.  Are you buying a BMW or a Ford Fiesta? A4 cylinder or a V8? Are low monthly payments or reliability most important? And the list goes on… HVAC isn't much different except the main factors that impact the cost of a new air conditioner include:
Equipment size
Energy Efficiency
Caliber of HVAC company you choose to work with
Financing, tax credits & available rebates
So, as a homeowner with a lot of information at your fingertips it's important to remember the new car analogy when your start to read about the "national averages" or "a typical price ranges." The best way to find out what if would cost to get a new air conditioner installed is talk with one of our comfort advisers.  Capital consultations are free and last roughly 90 minutes.
Call 414.384.4822, submit an online form or contact us online to request a free in-home consultation.
Capital Heating & Cooling provides Air Conditioner Installation in the Milwaukee area, including:
Menomonee Falls
Waukesha
Wauwatosa
Brookfield
Whitefish Bay
Any Air Conditioner Installation, Any Time
There's no air conditioner problem Capital's certified technicians can't fix. We believe in arriving on time, treating your home like we would our own mother's, and getting the job done RIGHT.