Join Our Capital Cares Club!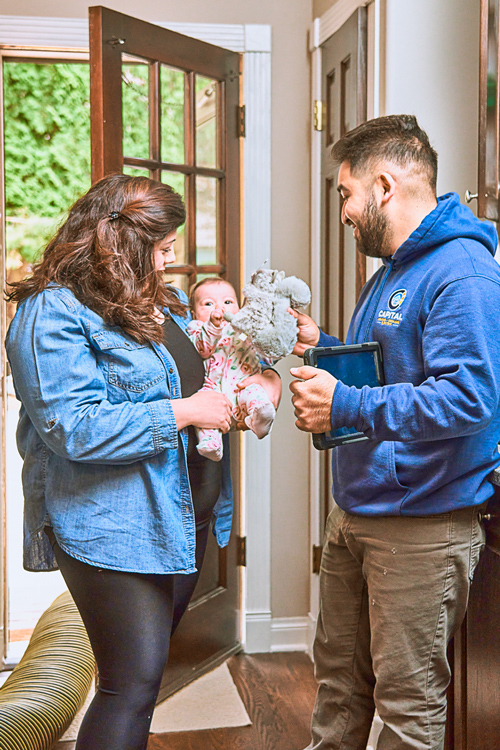 Front of the Line Priority Service
Furnace and Air Conditioner Beyondifications every year
Up to 20% Repairs
And a LOT more. . .
Want a Capital Technician always in your back pocket?
Call or text us at 414-316-3467
Capital Cares Club Saves
You Money AND Time
We're homeowners too. So, we get that you don't want to throw money away on gutless warranties and sleight-of-hand maintenance plans.
We asked ourselves, what kind of club would WE want to join? And how can we save YOU money, time, frustration and needless discomfort in your home?
Our answer is the Capital Cares Club:
Prioritizes YOU
when you call, by moving you to the front of the line for red carpet service.
Saves You Money
on energy bills by ensuring your furnace and air conditioner are always running at peak efficiency.
Extends
the LIFE of your system through comprehensive annual care and maintenance.
Prevents
life-disrupting breakdowns and costly system replacements.
Full Benefits of the Capital Cares Club
Two Beyondifications every year (AC and Furnace) (reg. $199 each)
FREE Home Air Quality Test on every visit (reg. $189)
Front of the Line Priority Service
$400 Capital Cash
20% off Repairs
10% off NADCA-Certified Duct Cleaning
$400 Capital Cash
Discount on Standard Fees (After Hours, Trip fees, etc.)
12 months 0% Financing
Automatic entry into our Monthly Giveaway ($525 min. value)
And Our Capital Cares Lifetime Workmanship Guarantee!
Capital Cares Club Details
As you can see, we've packed our Capital Cares Club with so many benefits that we may be kind of crazy. But it's the kind of crazy that benefits our loyal customers, and that's what we're all about. Just the two Beyondifications MORE than cover your membership fees, which are $24 a month ($288 total) with a one-time activation fee of $48.