Cracks & Gaps Cost You Money & Compromise Your Comfort
While the average American household spends more than $2,000 a year on energy costs, about $850 is wasted because of leaky air ducts. That's a huge loss!
At Capital, we can help you save hundreds of dollars a year by sealing up those leaky ducts with Aeroseal. This effective, patented technology is safe, easy to apply (unlike those messy processes of the past) and, most importantly, will improve your comfort and cut your energy costs. As Milwaukee's premier heating, cooling, indoor air quality and electrical provider, Capital has the skilled and experienced technicians to get the job done quickly, affordably and with minimal disruption to your household. We'll treat you and your property with the respect and courtesy you deserve. We are one of the few companies in Southeast Wisconsin certified to use Aeroseal's unique technology.
Ductwork Cracks & Gaps Are a Common Problem
If your home is similar to 95 percent of houses in the U.S., it has small cracks and gaps in the ventilation system. As a result of these leaks, your heating and cooling equipment doesn't perform at maximum efficiency. In fact, its efficiency can be reduced by as much as 40 percent. In addition to those higher energy bills, leaky ducts can cause temperature fluctuations and dust buildup. Yuck!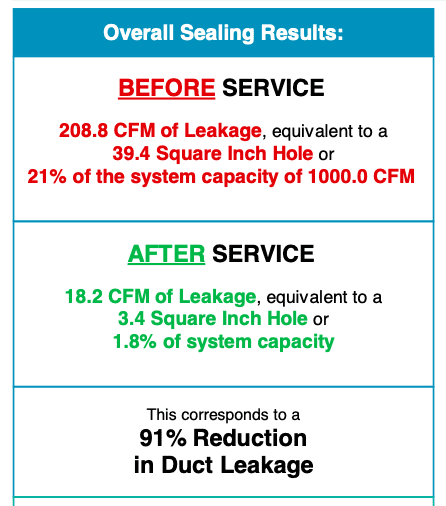 Duct sealing with Aeroseal can eliminate these costly, annoying problems. When you schedule your appointment with Capital, one of our licensed technicians will arrive on time and ready to get to work. First, your technician blocks all vents and registers to pressurize the system and blocks internal components of your HVAC system. We also cover your furniture to protect your living space from any sealant that might escape—just in case. Your tech will inject a mist of Aeroseal sealant particles into the duct system where the particles will cling to each other, creating a protective barrier to block holes, fill gaps and "correct" any misalignment problems. When the work is complete, we will apply a bleach solution to your equipment and all surfaces that we have touched, letting the solution set for two to three minutes before wiping everything down during final cleanup.
Aeroseal Duct Sealing: A Proven Solution!
Duct sealing has been identified by the U.S. Department of Energy as one of the most effective ways to prevent energy waste. Aeroseal duct sealing is a wise choice because it's not only effective but also safe for people and pets. It has undergone—and passed—rigorous safety testing by Underwriters Laboratories. It is made of vinyl acetate polymer—the same substance used in chewing gum, water-based paints and hair spray.
Read a short case study about how indoor air quality remediation including duct sealing relieved health problems—including a persistent, itchy rash—for one Washington woman.
In addition to energy cost savings, air duct sealing can help keep your indoor air clean. Cracks and gaps in your ductwork allow dust, chemical pollutants and other contaminants to seep into your ventilation system and circulate through your home. These contaminants can aggravate asthma and allergy symptoms, as well as other upper respiratory conditions. Duct sealing can stop these contaminants in their tracks and allow you to breathe easier.
When your ductwork contains holes and cracks, 25 percent to 40 percent of the warmed or cooled air in your home never makes it to its final destination—which could be your favorite room in the house! By sealing the ducts, you will improve the airflow from your vents, resulting in even temperatures throughout your entire home.
We also highly recommend that you have your air ducts cleaned first to remove allergens, dust and other debris from your ventilation system before sealing those leaky ducts.
Schedule Your Appointment Today!
With winter's frigid temperatures just around the corner, we're the team you can trust to tune up your furnace or boiler to make sure it's prepared. We also specialize in furnace repair, furnace installation, boiler repair and boiler installation. To schedule your appointment or to learn more, call or text Capital at 414.316.3467 or contact us online.