Goooood mooorning Mil-wau-KEE! (did my Robin Williams impression from Good Morning Vietnam translate through text?) It's Jason from Capital Heating, Cooling and Electric. Today, I'm going to tackle a question that's been floating around the internets-
"Is a furnace tune-up necessary?"
Let's break it down. . .
How a Well-Tuned Furnace Benefits You
The point of a tune-up is to prolong the life of your furnace and save you money on energy bills, but not every company really puts their back into it.
We don't believe in cutting corners or doing the bare minimum.
Here are Capital, we only offer a Furnace Beyondification, which is exactly what it sounds like. We go beyond your normal expectations of what a "tune-up" is, and spend extra time to make sure the job is done right.
That means looking at every single piece of your system and trying to make it like new again.
Capital's Four Furnace Factors
When you get a Capital Furnace Beyondification, we achieve four key goals for you:
Optimal Performance – Capital always tries to get your furnace back to "like new condition.
Prolonged Lifespan – You get the most out of your furnace by extending its life.
Energy Efficiency – You'll love saving you money by using less energy!
Safety – From gas leaks to ventilation, this is most important part of our job.
We Leave No Stone Unturned
Capital goes beyond in everything we do for our customers. Case in point, here's what you get with a Furnace Beyondification:
Thermostat Check
Calibration and adjustment of the thermostat to ensure accurate temperature control.
Inspection of Electrical Components
Examination of all electrical connections, wiring, and components to ensure they are secure and functioning properly, and testing of safety controls and relays.
Cleaning and Inspection of Burners
Cleaning of the burners to ensure efficient combustion, and inspection of the burner assembly for any signs of damage or wear.
Heat Exchanger Inspection
Thorough inspection of the heat exchanger for cracks, corrosion, or other damage that could lead to gas leaks or carbon monoxide issues.
Gas Pressure and Fuel Line Check
Measurement of gas pressure to ensure it's within the manufacturer's recommended range and inspection of the fuel line for leaks or potential issues.
Air Filter Replacement
Replacement of the air filter to ensure proper airflow and prevent dust and debris from accumulating in the system.
Blower Motor Inspection
Inspection of the blower motor and its components for proper functioning and lubrication.
Cleaning of Components
Cleaning of blower blades, motor housing, and other internal components to remove dust and debris.
Inspection of Ventilation System
Inspection of the exhaust flue and ventilation system to ensure proper airflow and safe venting of combustion gases.
Combustion Analysis
Measurement of gas combustion to ensure it's efficient and not producing excessive carbon monoxide.
Overall System Performance Evaluation
Assessment of the overall performance of the furnace to identify any inefficiencies or potential issues.
Lubrication
Lubrication of moving parts such as bearings and motors to reduce friction and wear.
Safety Checks
Verification that the safety switches and controls are functioning as intended, and detection of any potential safety hazards or issues.
Recommendations and Report
After your Furnace Beyondification, your Capital technician may provide recommendations for any necessary repairs or improvements, and a detailed report of the work performed and the condition of your furnace.
When To Get A "Way-Beyond-A-Tune-Up" Capital Furnace Beyondification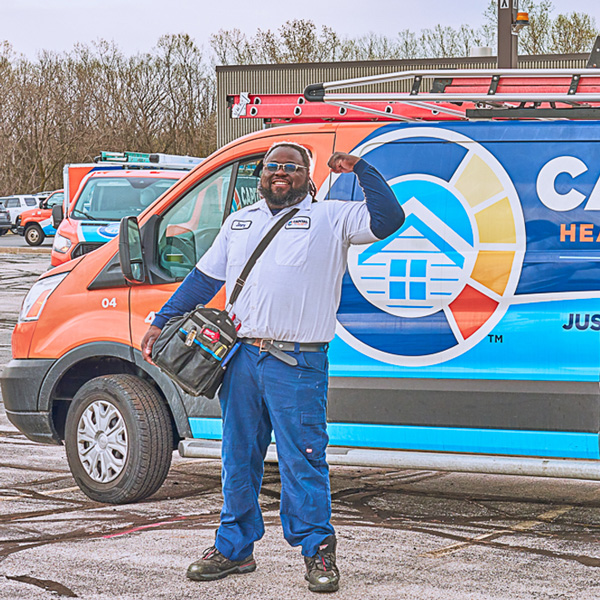 It is never too early to have us Beyondify your furnace, but there's definitely a time that's too late.
Some people are more prepared than others, so they get it done at the end of summer.
Others get it done right at the beginning of the Fall season.
But those who wait beyond that often have to deal with a breakdown or repair instead. How prepared do YOU want to be?
Why Annual Maintenance Is Best
If you join our Capital Cares Club, you get two Beyondifications every year (AC and Furnace) and tons of other benefits, so you have peace of mind year round that Capital has your back.
The Verdict: Furnace "Tune Ups" – The Capital Way
So, are furnace tune-ups necessary? As Seth would say, "Do bears bear, do bees bee?!" The way Capital does a "tune-up", it's not just necessary but VITAL to your pocketbook and your family's comfort and safety.
So Call Capital today at (414) 316-3467! We'll come Beyondify your furnace and leave behind peace of mind.