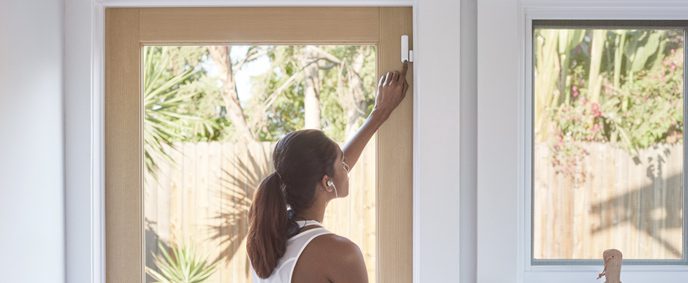 If you're looking for a security system that is easy to live with, the team at Capital Heating & Cooling recommends the Nest Secure. While other security system options are designed with the intruder in mind first, the Nest Secure is designed around the way people really live.
Arming and Disarming Made Easy
One of the biggest hassles with security systems is arming and disarming the system. The Nest makes it easy with several ways to do each. First, you can simply tap Nest Tag on the Nest Guard as you come and go. Or you can arm and disarm with the Nest app from anywhere. Or you can even ask your Google Assistant to arm for you. Finally, you can use the old fashioned way – enter a passcode on Nest Guard's keypad. (But only if you like passcodes.) Plus, it features No Rush arming and disarming. Nest Secure lets you choose how much time you need. No stressful countdowns, loud beeps or rushing out the door. A friendly voice tells you how much time you have left. And if you forget to set the alarm, you can get a Remind Me alert so you can arm right from your phone. They've thought of everything.
An Easier Security System to Live With
Because the Nest Secure system is designed around you instead of intruders, it's much more convenient to live with. It is comprised of four parts:
Nest Guard – the alarm, keypad, motion sensor and the brains of the system.
Nest Detect – the sensor that makes sure doors, windows and rooms are secured.
Nest Tag – a simple fob that can arm and disarm the system without the need for a passcode.
Nest App – control your security system from anywhere there's a Wi-Fi connection.
It's all about convenience. You can give a Nest Tag to family or people you trust. And even if you lose one, Nest has you covered. It can easily be disabled in the Nest app.
Nest Secure Thought about Adults, Kids, and Even Pets
Once again, the security designers at The Nest have thought of everything. You'll hear an open tone when the kids open the door to play in the backyard. Don't want to hear the tone, like when you get up early and everyone else is asleep? Quiet Open keeps the alarm silent while you open the door. They even thought of the family pets – Dog Pass keeps your pet from setting off the alarm as they come and go. Pathlight helps you find your way in the dark. Morning, noon and night, the Nest Secure system has you covered!
The Nest App Keeps You Connected to Home
Get peace of mind when you're away with the Nest App. If the alarm goes off, you'll get a security alert on your phone. Check the free Nest app to see what triggered the alarm (a door or window opened or someone entered a room) then you can call the police or your emergency contacts if necessary. Plus, you can add Nest Cam security cameras, Nest Hello video doorbell, or professional monitoring from Brinks Home Security™ and it will all work seamlessly. Whatever level of security you need, Nest is already ready.
If you're looking for a home security system that's easy to live with, the Nest Secure may be for you.
Schedule today for security and peace of mind!
If you would like immediate assistance, please call or text 414-316-3467.