Geothermal Cooling Systems
Geothermal cooling systems are highly energy-efficient compared to traditional air conditioning systems. They use the stable temperature of the earth as a heat source, which means they require less energy to maintain a comfortable indoor temperature.
Extreme energy-efficiency
Lower energy bills
Environmentally sustainable
Consistent heating throughout your home
Give us a call, day or night, at 414-316-3467
What Is Geothermal Cooling?
Geothermal cooling, also known as ground-source cooling, is a technology that uses the constant temperature of the earth's surface to cool your home without polluting the environment.
According to the Department of Energy, geothermal systems can reduce energy consumption by up to 50% compared to conventional heating and cooling systems.
This high level of energy efficiency translates into lower energy bills for homeowners, as well as a reduced environmental impact due to lower energy consumption. Additionally, geothermal systems have a long lifespan and require minimal maintenance, which further enhances their energy efficiency and cost-effectiveness over time.
Advantages of Geothermal Cooling
In short . . .
geothermal cooling systems offer many advantages over traditional air conditioning systems, making them a great option for environmentally-conscious families.
Geothermal System Installation
The most important day in the life of your geothermal cooling system is the day it's installed. Capital takes the time to do the job right the first time.
Geothermal System Replacement
When the day comes to replace your geothermal system, our Capital technicians will be there to discuss your options, help you choose what's best for your home and budget, and install your new system perfectly.
Geothermal System Repair
Geothermal systems have fewer mechanical parts than traditional HVAC systems, which means there are fewer things that can go wrong. Additionally, the underground piping used in geothermal systems is durable and can last for several decades, meaning that repairs are not needed as often.
If repairs are needed, they are typically easier and less disruptive than repairs to traditional HVAC systems. For example, if a leak is detected in the underground piping, the repair can often be made by simply digging a small hole and accessing the damaged area, rather than having to tear up the entire yard to access the system.
If you DO run into a repair problem, our Capital techs can fix it up fast. We even have a $500 not a day without comfort guarantee because we're confident we'll have you back up and running in no time.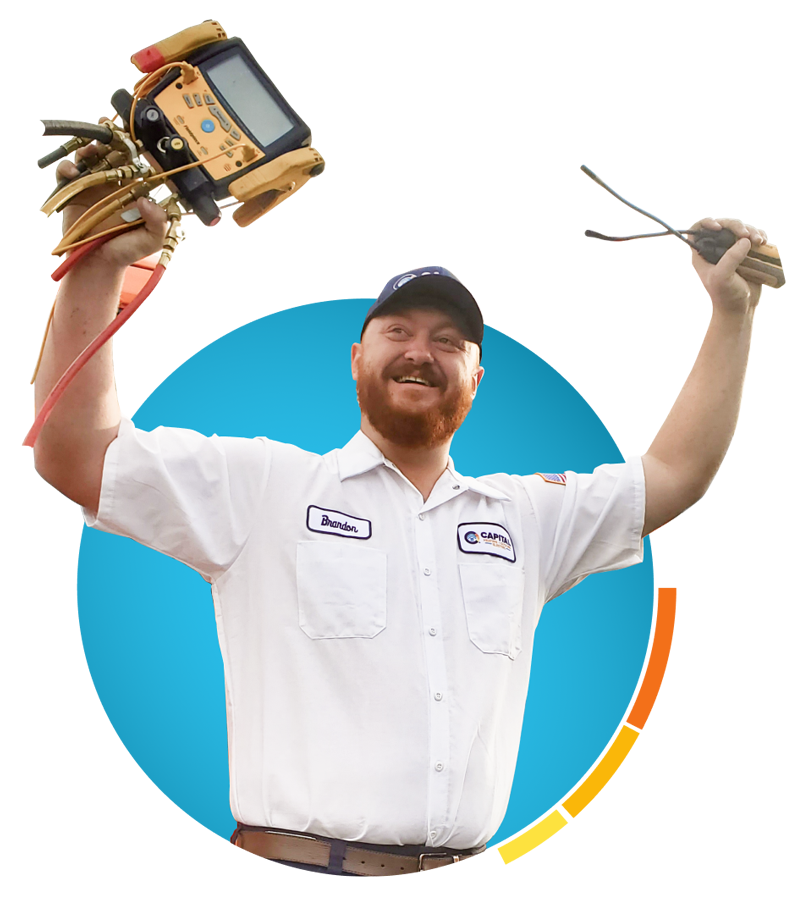 Why Choose Capital?
Capital Guarantees
Capital Heating, Cooling & Electric stands behind all our work. You are covered on the installation of your heating or cooling system by the following guarantees and more:

Your 100% Unconditional Satisfaction Or Your Money-Back Guarantee
5-Year Comfort Guarantee
Exclusive Lemon-Free Guarantee
Lifetime Installation Components & Craftsmanship Guarantee
Lifetime Ductwork Warranty
Flexible Financing
Capital cares to make your life better today, without YOU having to worry about tomorrow. So we also offer a number of financing options to help you with your HVAC system repair or replacement costs.
Capital Communication
We will let you know what to expect on the day of your installation, and introduce you to your Furnace installer before they arrive at your doorstep. At least 24 hours prior to your installation, you'll receive a "Meet Your Installer" email with:
Technicians' photo
# years experience
Photo of the install truck
In Transit text
In addition to the friendly introduction, you can rest assured that the technicians installing your heating system are highly vetted, trained, and nationally accredited. In fact, many of our technicians are relocated from around the country to ensure YOU only get the best.