Emergency Boiler Service in Menomonee Falls & Surrounding Areas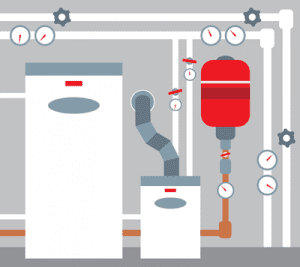 Day or night, if your boiler breaks in southeast Wisconsin, trust Capital Heating & Cooling for timely and affordable HVAC repair services. Our Milwaukee technicians are experts in identifying problems and fixing them in a cost-effective and time efficient manner. When you call Capital Heating & Cooling for emergency HVAC service, we can quickly dispatch a technician to your home who will arrive on time, in uniform, and ready to work.
Call Capital Heating & Cooling for 24-hour boiler repair services in Milwaukee or surrounding areas of southeast Wisconsin today, or contact us online now!

Schedule An Appointment
The Capital Heating & Cooling One-Year Guarantee
When you hire Capital Heating & Cooling to diagnose and repair your home boiler, we stand behind our services. That's why our work is guaranteed for one year. Whether you're a long-time customer or you're working with us for the first time, you'll always have peace of mind knowing that we stand behind your repair with our 100% customer satisfaction guarantee.
Types of Boiler Systems We Repair in the Milwaukee Area
Looking for natural gas, oil, or propane boiler service? Need a local HVAC company that works on Crown, Buderus, or Bosch equipment? You've found one! Our service technicians at Capital Heating & Cooling have extensive experience performing residential repairs and inspections on all kinds of systems.
We specialize in servicing boilers from a variety of top-name manufactures, including but not limited to:
Whatever make and model of boiler you may have, our team of skilled repair specialists can diagnose and repair the issues you're experiencing to get your unit back to normal as soon as possible! Contact us to schedule boiler service today.
No Hidden Costs or Fees for Boiler Repair in Milwaukee

Unlike many HVAC companies, Capital Heating & Cooling uses flat rate pricing and gives you an upfront boiler repair cost, which we ask you approve before we perform any work. You'll never be surprised with hidden charges or any charges you didn't authorize. In addition to the cost of repairing your boiler, most reputable HVAC companies have what's referred to as an "HVAC trip charge" or "HVAC trip & diagnostic fee." This includes sending the boiler repair technician to your home to perform a full system diagnostic to identify the problem(s) and present you with the cost to repair your unit. A full system diagnostic entails a thorough inspection of your boiler to identify the problem as well as any related parts that may be close to failure or passed the manufacturer's expiration date.
Capital Heating & Cooling also offers financing options with approved credit* to help make your unexpected boiler repair costs more manageable. Learn more!
*Financing subject to credit approval and terms.
Enhancing Your Wisconsin Home's Energy Efficiency
Our HVAC technicians are highly trained in identifying ways to make your homes existing HVAC system more efficient and your home more comfortable. So during your boiler repair service, if our technicians see things like leaky ductwork, incorrect temperature settings, or unbalanced ductwork, we'll bring them to your attention. Our technicians are highly qualified to diagnose and fix all of these boiler problems, leaving you with an efficiently operating boiler heat system.
Contact our boiler repair technicians to schedule prompt and affordable boiler service in the Milwaukee area.
Boiler Repair vs. Boiler Replacement
If your boiler is beyond repair, or it's more cost effective to have a new boiler installed, Capital Heating & Cooling offers a superior selection of boiler models from the most reputable manufacturers. Plus, our same-day installation service and HVAC financing makes this unplanned and likely unbudgeted event more manageable.
You may want to consider replacing your boiler if:
Repair cost is 50% of a new system installed
Your unit is breaking down frequently
Your heating bills are growing regardless of use
Schedule a free in-home boiler replacement consultation to discuss your options with one of our HVAC specialists.
Schedule Boiler Service in the Menomonee Falls Area Today
When you call Capital Heating & Cooling for heating services in southeast Wisconsin, you know you're dealing with a reputable HVAC company that so many of your neighbors already love and trust. Check out our reviews to see what people in southeast Wisconsin have to say about services by Capital Heating & Cooling.
Ready to schedule 24-hour boiler repair with our team of HVAC professionals at Capital Heating & Cooling? Contact us online now!