AC service Waukesha & Milwaukee Counties count on!
Capital Heating & Cooling is the only true 24 hour AC repair company in Waukesha County and we service all types of home air conditioning systems, even if we didn't install it! 24/7 your call WILL BE answered by an in house employee – not a third party answering service, voice message or call back by a HVAC technician who really doesn't want to get out of bed. Our customer service staff and emergency repair technicians are trained to respond quickly to your AC repair call because you deserve great customer service. We understand AC breakdowns are unplanned, that's why when you contact Capital Heating & Cooling for emergency air conditioning repair we quickly dispatch our local AC repair technicians who arrive on time, in uniform and ready to provide top-quality repair service. Day or night, our 24 hour AC repair service guarantees you won't be inconvenienced – or hot for long!
Schedule An Appointment
We service all types of AC systems, even if we didn't install it!
Our NATE Certified technicians will happily repair all air conditioner makes and models, even if we didn't install it. Whether it's an old Trane or a brand new high-efficient Bryant system, our technicians are the best in the industry; and will quickly diagnose and repair the issue at hand, safely and cost-effectively. Regardless of what kind of AC system you have, Capital Heating & Cooling stands behind our AC repairs with a 1 year HVAC repair guarantee and up a lifetime guarantee if you have a Capital Rewards™ Maintenance Plan.
How much do AC Repair Costs?
The cost of AC repairs depends on what needs to be fixed, when it needs to be fixed, and if you have a Capital Rewards™ Maintenance Plan. Depending on what needs to be addressed, most AC repair costs in Milwaukee ranged from $329-$1,013, not including the trip and diagnostic fee. Learn more about AC repair costs in your neighborhood. Regardless of what needs to be fixed you want to make sure you're not getting ripped off with hidden fees or obscene profit margins – we get it. Capital Heating & Cooling provides flat rate AC repair pricing, upfront so you know exactly what your costs will be, before the work is done. Our air conditioning repair services are fast, honestly priced, and guaranteed for at least a year!
AC repairs cost less if you have a Capital Rewards Maintenance Plan. If you have an emergency AC repair, ask how you can sign up for one of our HVAC Maintenance Plans to get up to 25% off your air repair cost.
Need air conditioning repair service? Contact our Waukesha AC repair company to learn more about AC repair costs.
Why Choose NATE Certified when looking for AC Repair Service

ACCA ® (Air Conditioner Contractors of America) warns homeowners to hire HVAC companies that employ technicians with nationally accredited certifications including NATE ® North American Technician Excellence. To earn a NATE Certification, technicians must demonstrate real working knowledge of HVACR (Heating, Ventilation, Air Conditioning, and Refrigerant) systems, and pass a test that certifies them as an expert in their field including AC repair service, AC installation service, etc. NATE Certification requires both a time commitment and financial investment.
Because our MISSION is to do what' right for the customer, our technicians believe it's part of their job to help identify solutions to lower your air conditioning bills and are cross-trained to help you identify if it's time to consider an AC replacement service instead of repair. Our service teams come prepared to install energy savings solutions upon your request and can happily schedule a free in-home consultation for AC replacement. Capital Heating & Cooling employs NATE Certified AC repair technicians because they are proven to be more productive than non-certified technicians and have the proven knowledge to repair your AC system right the first time – which means no wasting your valuable time and money.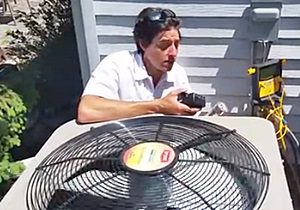 Best AC Repair Company in Milwaukee, Waukesha & Racine Counties
Consumers use the Prime Buyer's Report to avoid the scam, fraud, and HVAC businesses with low customer satisfaction reviews.
Independent research conducted by Prime Buyer's Report determine New Berlin's Capital Heating & Cooling is the best HVAC businesses in Milwaukee, Waukesha & Racine counties that is safe to spend money with. The research included weeks of phone call surveys with customers of local businesses, checking with Wisconsin agencies on license and complaint history, verification of our insurance coverage to protect you as a customer, plus Capital Heating & Cooling's owner gave a phone interview, and signed agreements that Capital Heating & Cooling uses only legal workers.