Menomonee Falls, Wisconsin's HVAC Maintenance Experts for Geothermal Cooling Systems
Like conventional home air conditioning systems, geothermal air conditioning systems require proper maintenance to operate efficiently. With the increasing popularity of geothermal energy, many HVAC companies in Milwaukee claim to "do geothermal" however, it's very important to choose a reputable HVAC company with proven experience in geothermal maintenance.
For over a decade, Capital Heating & Cooling in New Berlin has been Wisconsin's top geothermal HVAC company for installation, repairs and maintenance. Our NATE certified technicians are highly trained to thoroughly clean and inspect geothermal cooling systems, and understand exactly what to look for during a tune up to prevent potentially costly problems like loop leaks or a broken heat pump.

Schedule An Appointment
Schedule AC Maintenance with Wisconsin's Geothermal Maintenance Experts.
Benefits of Geothermal HVAC Maintenance
Similar to the benefits of geothermal energy itself, proper maintenance of your geothermal cooling system will ensure you continue to reap the rewards of your initial investment in a geothermal cooling system.
More efficient operation. Similar to a conventional AC system, without proper cleaning and adjustments, your geothermal system works much harder than it needs to.
Lower energy bills. When your ac system runs efficiently it uses less energy, resulting in lower air conditioning bills for you. More tips to keep energy costs down.
Fewer AC repairs. 90% of HVAC repairs could be avoided with proper maintenance. Our HVAC professionals are highly trained in what to look for during a tune up to prevent potentially costly geothermal repairs like loop leaks or a broken heat pump.
Warrantees. Installation and manufacturer warrantees require an annual maintenance inspection to keep you warrantees active. Failure to have an HVAC professional inspect your geothermal cooling system yearly could result in denial of warranty coverage.
Annual maintenance plans are available to ensure your yearly AC tune up is automatically scheduled. Additional benefits of a Capital Rewards ™Maintenance Plan includes discounts on repairs and equipment, free service calls, lifetime warranty on repairs, inflation protection, priority service and more. There are 4 types of Capital Rewards ™Maintenance Plans and the benefits vary by plan.
How much does Geothermal Maintenance Cost?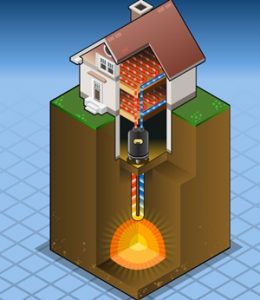 On average it takes about 90 minutes for a trained HVAC professional to thoroughly clean and inspect a geothermal cooling system. The time and cost of geothermal maintenance is slightly higher than the cost of an AC tune up for a traditional HVAC system due to the complexity and underground parts of geothermal system. In Wisconsin, geothermal maintenance costs around $289-$350.
WARNING: Hiring an inexperienced or underqualified HVAC company to work on your geothermal cooling system may result in damage to your system. Check with credible organizations like Better Business Bureau, and Prime Buyers Report for Geothermal Contractors in Wisconsin.
Do I need an HVAC Maintenance Plan?
A Capital Rewards ™ Maintenance Plan is optional but ultimately is more cost effective than scheduling annual maintenance on its own each year. In addition to the cost advantages of an annual maintenance plan, depending on the plan you select other benefits can include:
25% repair discounts
Free service calls
Lifetime repair warranty
Priority "speed pass" service
Inflation protection
Rebates & credits
Contact us today to schedule your ductless cooling tune-up.