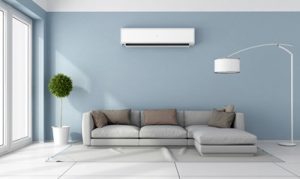 Maintenance Plans for Ductless Air Conditioners
Ductless AC equipment manufacturers like Mitsubishi require that your ductless system be started-up and checked by a licensed HVAC contractor like Capital Heating & Cooling. When choosing an HVAC company to perform the maintenance on your system, keep in mind not all Milwaukee HVAC companies are qualified and could potentially damage your equipment.  Federal EPA regulations require a certification to handle refrigerant and to start-up any split air conditioning system containing refrigerant. Capital Heating & Cooling is ACCA certified and complies with industry regulations that ensure the best maintenance for your mini split ac.

Schedule An Appointment
Air Conditioning Maintenance Cost
Not all HVAC maintenance services are equal; the cost of your AC tune up will depend on a handful of things like how many heads do you have in your ductless air conditioning system, caliber of HVAC company you hire, and the thoroughness of the cleaning. On average, a reputable and qualified HVAC company charges around $149-$200 to clean your ductless AC system.
It's not a good idea to skip annual maintenance, considering the cost to replace it and any warranty you may void.  Additionally, our technicians perform a very thorough cleaning including:
Ensuring proper air flow
cleaning air filter
clean condenser unit
tightening electrical connections
check refrigerant level for leaks
Contact our New Berlin HVAC office for a fill list of AC maintenance checkpoints, or to schedule your ductless AC maintenance today.