Ductless air conditioning systems (also called a duct-free system, mini-split, or ductless split system) are the go-to choice for newly constructed homes and room additions, as well as for homes with no existing ductwork and which rely upon radiator or electric baseboard heating. Capital Heating & Cooling specializes in ductless air conditioning installation, repair and maintenance. What can we help you with today?

Schedule An Appointment
Ductless Air Conditioners for Menomonee Falls Homeowners
What is ductless air conditioning?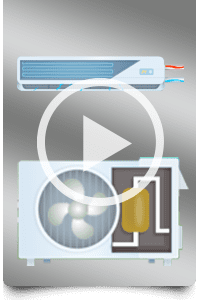 A ductless air conditioner is also referred to as a mini split or ductless split system because it consists of two components: a discreet unit mounted to an inside wall that delivers cool air to the room, and a compressor unit installed outside your home. Ductless air conditioning systems can cool one room or multiple zones and work independently of each other, allowing you to customize your home comfort needs.
Ductless Cooling Can Save You Money
One of the biggest reasons ductless cooling systems are becoming more popular is the overall cost savings they provide. Ductless air conditioners use less power than traditional force-air systems because they're smaller, and the cooled air is delivered directly into a room (instead of routed via ductwork) so there's no loss in efficiency. Additionally, multi-split systems allow homeowners to create "zones" in their home, which means they no longer have to cool unoccupied rooms. A properly installed ductless air conditioning system can save 30-40% off your energy costs.
On top of saving money on utilities, Wisconsin homeowners may be eligible for HVAC energy efficiency rebates for having Capital Heating & Cooling install a ductless air conditioning system. There are many programs at the federal, state and local level allowing homeowners and businesses to take advantage of these additional savings. You might as well capitalize as much as you can on your decision to go energy efficient.
Cost
Having a ductless air conditioning system in your home can cost as little as $5,000, and up to over $40,000 depending on the needs of your home and the quality of installation.
Needs of Your Home
Are you looking to cool one area like a sunroom or office, or have Capital Heating & Cooling create a zoned HVAC system throughout your home? The answer to this question is determined by the type of equipment and type of installation (ceiling, wall or duct) recommended for your home. Installing multiple HVAC systems obviously costs more than just one; ductwork or tight installations will increase the time and cost to install as well. Our New Berlin ductless air conditioning experts can help you determine the needs of your home with a free in-home consultation. Schedule a free ductless air conditioning consultation now.
Quality of Installation
The quality of your installation directly impacts the performance of your new ductless air conditioning system. Even the best ductless air conditioners will break down or operate inefficiently if they're not installed correctly. Professional installation includes running lines for the coolant, electricity, drainage, and charging with the right amount of refrigerant. Our New Berlin HVAC installers specialize in residential AC installations and abide by strict ACCA and NATE regulations when installing your equipment. Youur installation is also backed by our lifetime craftsmanship guarantee.
Ductless AC Systems
While Capital Heating & Cooling has access to all types of ductless AC equipment including Fujitsu, Hitachi, Panasonic, LG, and more, Mitsubishi Electric ductless HVAC systems are our preferred ductless AC brand – because of their reputation for quality and consistent supply of parts and inventory. Importantly Mitsubishi's commitment to training HVAC technicians aligns with Capital Heating & Cooling's. Our New Berlin HVAC technicians frequently go to Mitsubishi's Chicago land training facility to ensure we're abreast the technology advancements that result in the very best ductless AC installations for our customers.