Convert Your Commercial Oil Heater into a Gas Heater for Cleaner, More Efficient Heating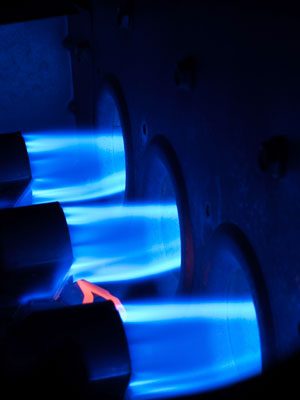 With oil prices constantly fluctuating and often increasing, this as an ideal time to switch your commercial building's existing oil furnace over to a natural gas furnace.
A cleaner burning and more efficient heating fuel, natural gas will reduce a building's CO2 emissions by as much as 40% and completely eliminate sulfur dioxide emissions from burning oil. With a conversion to natural gas heating from our Milwaukee commercial HVAC company, there are no more noxious odors or inconvenient deliveries to worry about. With the efficiency of natural gas, fuel costs to heat your facility will be greatly reduced.
Gas Heaters Installed by Qaulified Professionals
If you currently have an oil-based heating system and are considering making the change to natural gas, you'll need Capital Heating & Cooling's skilled Milwaukee HVAC technicians to convert your heating systems properly. We are highly trained, fully licensed and insured; and we've helped convert countless systems in the Greater Milwaukee Area to natural gas.

Schedule An Appointment
---
Oil to Gas Furnace Conversion Process
Our heating and cooling technicians will remove your old oil tank, install a gas line which connects your building to existing gas mains, install a new gas furnace and remove the old one. We take care of everything during the conversion to make the process simple and convenient for you.
Depending on your area and the specific stipulations of your natural gas provider, it may be necessary to install a new gas line and meter. While this aspect of the conversion process must be handled by your local provider, our Milwaukee heating and cooling experts will be there to assist you in obtaining this service. For clean, eco-friendly, and cost effective heat via gas, look to the expert conversion services of Capital Heating & Cooling's Milwaukee HVAC specialists.
Whether you are located in Milwaukee, Waukesha, Racine, Kenosha, or any other county in SE Wisconsin, choose Capital Heating & Cooling for your HVAC needs!
Contact our Milwaukee HVAC technicians now for a free estimate to have your heater converted from oil to natural gas.
Why choose Capital
Free On-Site Estimates
24/7 Emergency Service
100% Satisfaction Guarantee
Professional Technicians/Installers
Same-day Service
Licensed and Insured