24 Hour HVAC Contractor for Menomonee Falls & Waukesha County Businesses
Capital Heating & Cooling is the go-to HVAC Contractor in SE Wisconsin known for reliability and innovation solutions that save businesses time and money. Our local commercial HVAC technicians are extensively trained in the installation, replacement, repair, and maintenance of large and complex HVAC systems and related units. From offices and industrial buildings to restaurants, hotels, shopping centers and more, we cover it all. So, whether you're in search of design build, RTU replacement, an HVAC maintenance service plan – or anything in between, Capital Heating & Cooling is just one phone call away.
Contact Capital Heating & Cooling for service or more info on commercial HVAC services.
---
Commercial Air Conditioning Services
Commercial cooling systems are typically very energy intensive and are almost always fueled
by electricity. Their operation typically coincides with periods that are subject to peak and time of use charges, so when your commercial air conditioner fails you, it can mean big trouble for your bottom line. Commercial cooling systems have advanced significantly in design and efficiency so it's imperative to work with an experienced HVAC contractor with a proven record of success designing, servicing and installing today's modern commercial air conditioning systems.
Whether you wish to improve the efficiency of your existing air conditioning systems or are considering upgrading to a new system, we can help. Capital Heating & Cooling provides 100% satisfaction guaranteed commercial HVAC services.
Our Commercial Air Conditioning Services include:
---
Commercial Heating Services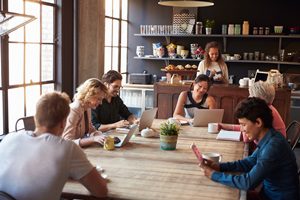 Heating systems are critical to most businesses and are while key to maintaining a comfortable, healthy and productive work environment, they also represent a large component of many facilities' utility expenses. Collectively, the HVAC system accounts for approximately 40% of the electricity used in commercial buildings. Improved performance of your heating system along with substantial energy savings can be achieved by implementing energy-efficiency measures.
Our Commercial Heating Services Include:
---
Ice Maker Repairs, Replacement, & Cleaning
For businesses that depend on ice, when your ice maker stops working it can be detrimental.
Capital Heating & Cooling provides expert ice maker services for all types of ice makers such as full cube, half cube, nugget, flake, and specialty ice cubes. Whether your ice maker has stopped working, or you're looking to proactively keep it clean and well maintained – Capital Heating & Cooling is the commercial HVACR company Milwaukee area business trust to keep their ice makers working efficiently and reliably.
Our Ice Maker Services Include
---
Top Commercial HVAC Contractor in SE Wisconsin
Businesses in New Berlin, Waukesha, Brookfield, Wauwatosa, Milwaukee, Franklin, and the surrounding cities benefit from choosing Capital as their HVAC contractor. Free on-site estimates, 24/7 emergency service, same-day service, and our 100% satisfaction guarantee help us stand apart from other commercial HVAC companies. Boilers, water heaters, air conditioners, furnaces, heat pumps – our technicians service them all. We also offer commercial air duct cleaning unmatched in quality and cost by other Wisconsin duct cleaning companies. Our commercial HVAC contractors provide expert solutions for everything from mom and pop shops to major corporations. Unlike many Wisconsin commercial HVAC companies, our technicians don't stop at the standard. We go above and beyond by installing and servicing industry leading brands like Bryant, Luxaire, Amana, Lennox, Honeywell and much more. Our technicians also offer innovative ways to help you save on energy bills. We evaluate your building's unique structural layout and analyze the best brand and system for your building, ensuring you get the most reliable, energy efficient, and performance-driven commercial HVAC system for your specific needs.
Additional Commercial HVAC Services Provided by Capital Heating & Cooling:
Contact our commercial HVAC company in Southeast Wisconsin today for efficient, reliable and highly specialized commercial HVAC service.